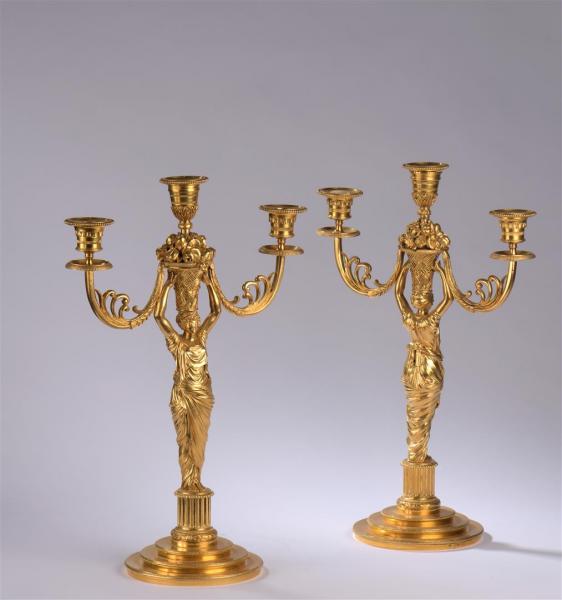 Philocale auction house, in Orleans, in collaboration with our experts specialized in free valuation and free appraisal will sell at auction a pair of French ormolu candelabras from the Tuileries, Tuesday 30th June in Orleans.
Paire de flambeaux à canéphores en bronze ciselé et doré, le fût formé d'une femme vêtue à l'antique portant un panier de vannerie orné de fleurs et fruits supportant un bouquet de trois lumières, reposant sur une colonne tronquée cannelée à base circulaire à degrés.
Marques d'inventaire : TU couronné 12824 et 27524 sous la base.
Attribuée à François Rémond.
Circa 1800
H. : 44 cm L. 29 cm
Estimate: 3,000/4,000 euros
Provenance :
- Palais des Tuileries où notre paire de flambeaux est inventoriée en 1833.
Note :
Notre paire de flambeaux est une variante du modèle original attribué au doreur parisien François Rémond (1747-1812), reçu maître en 1774 et au fondeur François-Aimé Damerat, reçu maître en 1781, dont les premières livraisons au marchand-mercier Dominique Daguerre sont enregistrées en 1784.
Le 10 avril 1784 Rémond demande 1100 livres « Pour fourniture d'une paire de petits flambeaux à 3 figures et Corbeille, sur un pied à trois Consolles » (AN, 183 AQ 2, p.41), et au mois de juillet, 800 livres pour la livraison « d'une paire de petits flambeaux à Groupe de figures ».
Le 23 mars 1785, une paire est livrée au Comte d'Artois pour le palais du Temple au prix de 950 livres et le 16 mai 1786, la princesse Kinsky en acquière une paire pour son hôtel de la rue Saint-Dominique.
Ces deux dernières paires furent confisquées lors de la Révolution et l'une fût envoyée au palais du Luxembourg puis aux Tuileries. Les deux paires sont aujourd'hui conservées à la Wallace Collection sans qu'il ne soit possible de les distinguer.
Dans les années 1790, un modèle avec quelques variantes voit le jour, en particulier au niveau de la base qui devient circulaire à trois degrés supportant une colonne tronquée cannelée. Si les trois figures sont toujours exécutées par François Damerat, la nouvelle base et le panier sont réalisés par Leboucher. Une paire apparaît le 30 août 1796, lors de la dispersion de la collection de Monsieur Tavernier de Boullongne.
Nos luminaires semblent être la dernière évolution de ce modèle, Rémond conserve la base circulaire et le panier de vannerie portant fleurs et fruits mais remplace les trois figures féminines par une femme de face vêtue à l'antique et adjoint à la bobèche une bouquet de trois lumières dans lequel l'influence de l'égyptomanie est déjà présente.
Bibliographie :
- Christian Baulez Le luminaire de la princesse Kinsky, L'Estampille/L'Objet d'art, 247, mai 1991, p.84-99).
- P. Hugues, The Wallace Collection, III, Londres, 1996, pp.1259-1263).

Send this article to a friend