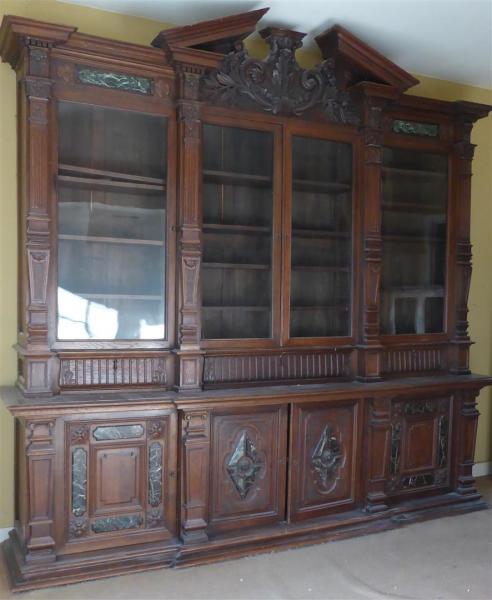 Philocale auctioneer in collaboration with our experts specialized in free valuation and free appraisal will auction a large French Napoleon III oak bookcase attributed to Fourdinois, Saturday 28th April at the chateau de La Fontaine in Olivet.
Bibliothèque sur plinthe deux corps en diminutif à ressaut central à trois travées architecturées en chêne mouluré et sculpté à décor de pilastres cannelés engainés et fleurons et plaquettes en marbre appliquées. Elle ouvre en partie basse par quatre vantaux surmontés de trois abattants et quatre portes foncées de glaces en partie supérieure. Important fronton triangulaire brisé sculpté de feuilles d'acanthe, branchages de laurier et enroulements.
Attribué à Henri Fourdinois
Epoque Napoléon III
H. 300 L. 300 P. 65 cm.
Légers accidents et manques.
Prov. : Hôtel particulier de Versailles et par descendance

Note :
Henri Fourdinois (1830-1907), fils d'Alexandre Fourdinois, intègre l'entreprise familiale en 1860 et la développe, il se distingue de ses confrères par l'unité de style de chacun de ses meubles qu'il dessinait lui-même.
Notre meuble peut être rapproché d'une bibliothèque estampillée Henri Fourdinois, vendue chez Christie's Paris, le 2 juillet 2008, lot 207.
Estimate: 4,000/6,000 euros

Send this article to a friend