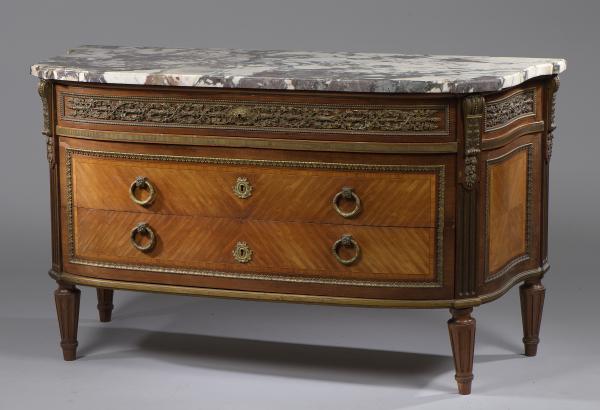 Guillaume Le Floc'h auctioneer in collaboration with our experts specialized in free valuation and free appraisal sold a French antique Louis XVI style commode after a model in the Petit Trianon, on Sunday 8th October in Saint-Cloud.
Commode cintrée en placage de bois de rose dans des encadrements d'amarante (accidents et manques), à montants cannelés, ouvrant par deux tiroirs sans traverse et un tiroir en ceinture, reposant sur quatre pieds fuselés et cannelés (un pied cassé). Riche garniture de bronze ciselé et doré tel que frises de branches de lierre et pampres de vigne, chutes en console, frises de feuilles d'eau et anneaux de tirage.
Plateau de marbre brèche violette mouluré.
Style Louis XVI.
Haut. : 87 cm - Larg. : 153 cm - Prof. : 64 cm
D'après un modèle de Jean-Francois Leleu conservé au Petit Trianon.
En 1902 lors de la Vente Cueunières, la maison Linke achète les droits pour copier l'original de la commode conservé à Trianon.
Estimate: 1,500/2,500 euros
Sold for 3,000 euros

Send this article to a friend