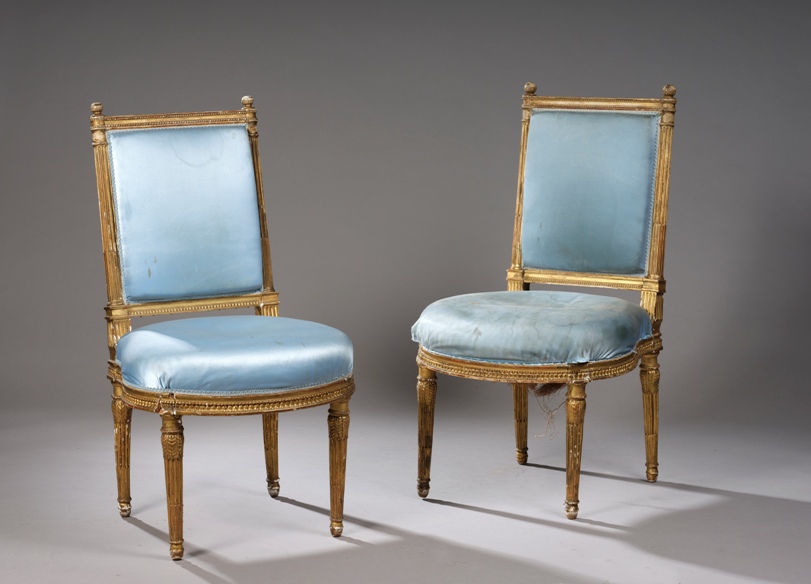 Guillaume Le Floc'h auctioneer, in Paris and Saint-Cloud, in collaboration with our experts specialized in free valuation and free appraisal will auction a French Louis XVI carved and giltwood chair by Georges Jacob probably from the Comte d'Artois, Sunday 13th October in Saint-Coud.
Deux chaises, formant paire, à dossier plat en bois mouluré, sculpté et redoré (éclats), les montants à colonnes fuselées, cannelées, rudentées et surmontées de boules, les traverses à frises de perles, l'assise en fer à cheval ornée de frises de feuilles d'eau et de perles. Elles reposent sur quatre pieds fuselés, cannelés et rudentés sommés de feuilles de laurier (deux pieds très accidentés).

Attribuées à Georges Jacob, reçu Maître le 4 septembre 1765.

Portent une étiquette à l'intérieur des ceintures : Salon de Monseigneur.

Époque Louis XVI pour l'une.

Haut. : 96 cm – Larg. : 52 cm – Prof. : 53 cm





Notre chaise fait partie d'un ensemble beaucoup plus important de sièges estampillés de Georges Jacob et portant la même étiquette :

- cinq chaises conservées au château de Versailles, V4736-4739 ;

- une suite de six, vente Sotheby's Paris, le 7 novembre 2013, lot 220 ;

- quatre chaises, vente Christie's Monaco, le 20 juin 1992, lot 108 ;

- une paire de chaises, succession Lucien Guiraud, vente palais Galliera, le 10 décembre 1971, lot 53 ;

- une paire de fauteuils, Mobilier National, conservée au Palais de l'Elysée.



Même si le titre de Monseigneur était donné au XVIIIe siècle, tant aux membres de la famille royale qu'aux ducs et pairs de France, il est vraisemblable que notre chaise ait été commandée pour l'ameublement d'une des nombreuses résidences du Comte d'Artois ou du Duc de Penthièvre au regard du grand nombre de sièges identifiés de cet ensemble.

Send this article to a friend