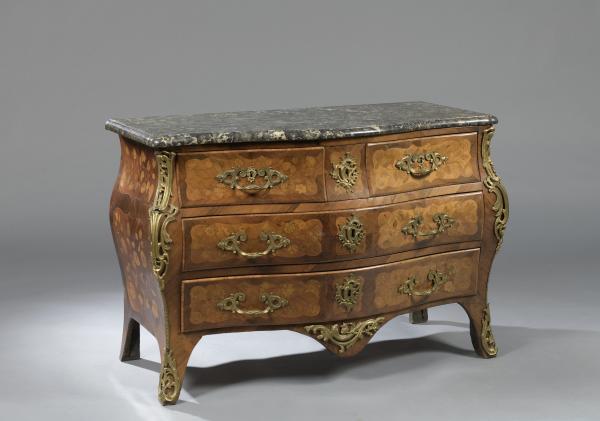 Guillaume Le Floc'h auctioneer in collaboration with our experts specialized in free valuation and free appraisal will sell a French antique Louis XV marquetry commode, on Sunday 11th February in Saint-Cloud.
Commode galbée toutes faces à décor marqueté de fleurs et branchages en bois teinté sur fond de bois de rose dans des encadrements de palissandre (insolé), ouvrant par cinq tiroirs sur trois rangs. Importante garniture de bronze ciselé et doré (en partie rapportée) tels que chutes, sabots, tablier, entrées de serrure et poignées de tirage (accidents et restaurations).

Estampille P RO…. et poinçon de jurande.

Epoque Louis XV.

Plateau de marbre gris veiné mouluré.

Haut. : 89 cm – Larg. : 130 cm – Prof. : 64 cm

Note : Notre commode est caractéristique de l'œuvre de Pierre Roussel. Reçu Maitre le 21 aout 1745, il livra de nombreuses commandes au Prince de Condé tant pour le Palais Bourbon que pour le château de Chantilly.
Estimate: 4,000/6,000 euros

Send this article to a friend