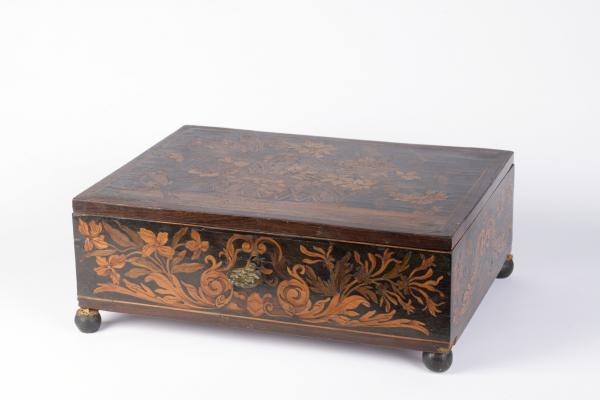 Philocale auction house, in Orleans, in collaboration with our experts specialized in free valuation and free appraisal will auction a French Louis XIV period marquetry box around Pierre Gole, Sunday 26th September in Orleans.
Coffret rectangulaire marqueté toutes faces sur fond d'ébène dans des encadrements de palissandre d'un panier au bouquet fleuri et feuillagé et d'un oiseau sur un entablement sur le couvercle, les côtés ornés de rinceaux feuillagés et fleuris, l'intérieur marqueté de rinceaux. Entourage de Pierre Gole
Époque Louis XIV
H. 11 L. 36,5 P. 27 cm
Accidents et restaurations au placage, soulèvements, pieds rapportés à refixer, serrure modifiée

Note :
La marqueterie de bois indigène, à décor de rinceaux fleuris et oiseau, rattache notre coffret aux créations de Pierre Gole (vers 1620-1685), ébéniste de premier plan du règne de Louis XIV.

Pierre Gole, d'origine hollandaise, s'installe à Paris vers 1640 et devient « ébéniste du roi » dès 1651. Parallèlement à la marqueterie de bois précieux, il exécute également de nombreuses pièces en marqueterie d'écaille et métal. Son inventaire après décès daté de janvier 1685 mentionne outre de nombreux meubles, plusieurs coffrets.

Bibliographie : Th. H. Lunsingh Scheurleer, Pierre Gole ébéniste de Louis XIV, Dijon 2005.
Estimate: 4,000/6,000 euros

Send this article to a friend