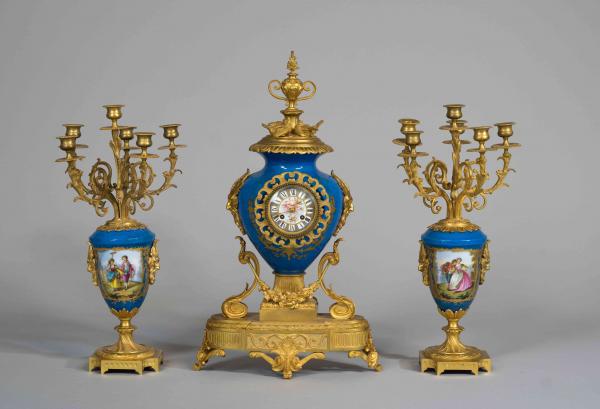 Jean Havin auctioneer in collaboration with our experts specialized in free valuation and free appraisal will auction an important garniture de cheminée including a clock and a pair of candelabras, on Sunday 13th May in Argent-sur-Sauldre.
GARNITURE DE CHEMINEE en porcelaine à fond bleu céleste et décor polychrome.
Elle comprend : une pendule formant vase balustre ornée d'une riche monture en bronze ciselé et doré à décor de feuilles d'acanthe, guirlandes de fleurs et masques de faune. Le cadran à décor polychrome d'un amour portant un carquois et une flèche est coiffé d'un couple de colombes. Elle repose sur une base à ressauts et pieds volutes. Marquée : "Médaille de bronze S. MARTI et Cie".
Paire de candélabres à quatre bras et cinq lumières, fût formé d'un vase en porcelaine à fond bleu céleste à décor polychrome de scènes galantes et de bouquets de fleurs au revers dans des encadrements dorés de volutes sur fond de quadrillages et bronzes ciselés et dorés tels que masques de faune et acanthe. Reposant sur une base circulaire à cannelures torses et guirlandes de laurier et socle carré à coins incurvés.
Style Louis XVI.
H. 64, L. 36, P. 22 cm.
(Eclats à l'émail).
Estimate: 2,000/2,500 euros

Send this article to a friend