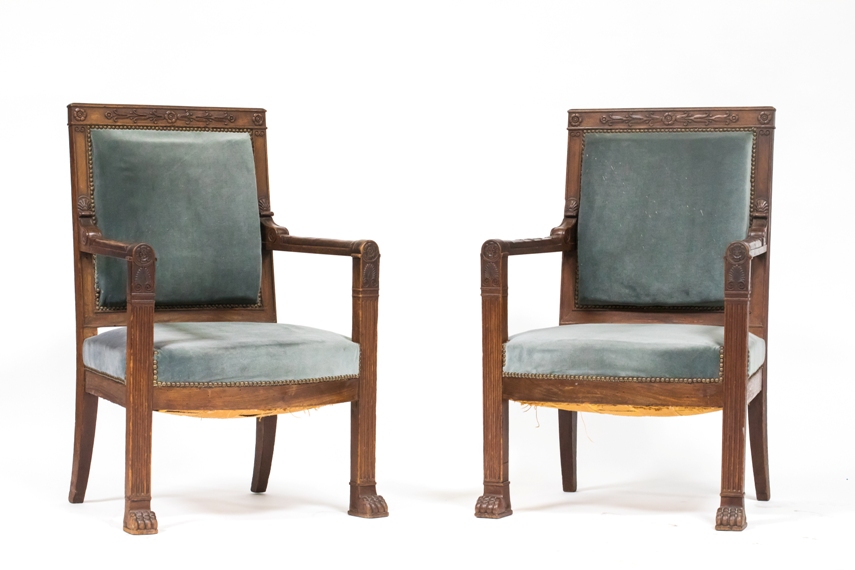 Ouest Enchères Publiques auctioneer in Nantes and Rennes in collaboration with our experts specialized in free valuation and free appraisal will sell at auction a pair of French Empire Mahogany armchairs stamped Bellange, Saturday 26th June in Nantes.
Paire de fauteuils à dossier plat en acajou et placage d'acajou mouluré et sculpté, à décor de feuilles de lotus, fleurons et enroulements, reposant sur des pieds antérieurs en gaine cannelés terminés par des griffes de lion et des postérieurs en sabre (usures, légers accidents et chocs, légers soulèvements et traces d'insectes xylophages).
Estampillé Pierre-Antoine BELLANGE, reçu maître le 24 octobre 1788.
Epoque Empire, circa 1805.
Haut. : 96 cm - Larg. : 64 cm - Prof. : 49 cm
Notre paire de fauteuils s'inscrit parfaitement dans le corpus de Pierre-Antoine BELLANGE en particulier les pieds antérieurs en gaine cannelées que l'on retrouve sur plusieurs sièges estampillés ou attribués à BELLANGE :
-Vente Tajan, Paris, le 25 octobre 2000, lot 259.
-Vente Couturier-Nicolay, le 16 juin 1993, lot 113
-Vente Piasa, le 17 décembre 20210, lot 393, estampillé Louis-Alexandre BELLANGE fils de Pierre-Antoine et d'époque Restauration.
Notre paire de fauteuils est caractéristique des premières années de l'Empire et s'apparente dans leur dessin aux trônes de Percier et Fontaine.
Bibliographie :
-Sylvain Cordier, Bellangé, ébénistes Une histoire du goût au XIXe siècle, Mare et Martin, p182, et p408, PAB 15 et PAB 16.
Estimate: 2,000/3,000 euros

Send this article to a friend