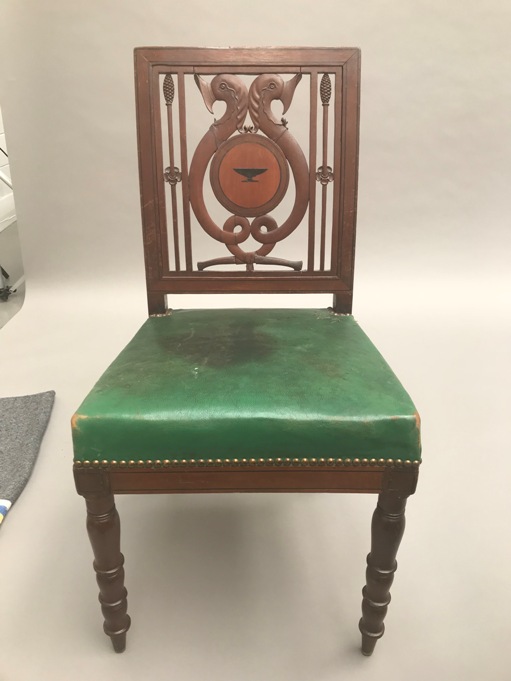 Guillaume Le Floc'h auctioneer in collaboration with our experts specialized in free valuation and free appraisal will auction a pair of French Consulat mahogany and marquetry chairs by Jacob Freres, auction Friday 05th April in Drouot Paris.
Paire de chaises à dossier carré à la planche en acajou et placage d'acajou mouluré et sculpté et filets de bois noirci, le dossier à jour présentant en son centre un médaillon, marqueté d'une coupe sur pied antique, supporté par deux dauphins adossés flanqués de branches de thyrses. Elles reposent sur des pieds antérieurs en double balustre bagué et des postérieurs en sabre.
Attribuées à Jacob Frères, 1796-1803.
Epoque Consulat
Accidents et restaurations, équerres et légers manques
700/900 euros
Note :
Notre paire de chaises est caractéristique des productions de Jacob Frères en particulier au niveau du médaillon du dossier marqueté ainsi que des filets de bois noirci qui font parties des signatures de cet atelier.
Fils de Georges Jacob, Georges II et François-Honoré-Georges s'associent en 1796 pour reprendre l'atelier paternel sous la raison sociale « JACOB FRERES RUE MESLEE ». Le décès du premier en 1803 met fin à cet association.
Dans leur atelier, les plus beaux sièges Consulat voient le jour et leur clientèle est la plus prestigieuse de l'époque, citons Joséphine, Bonaparte ainsi que Madame Récamier.
Ils se distinguent en particulier par l'emploi de filets d'ébène et parfois de laiton et par des marqueteries d'objets antiques sur fond de bois clair contrastant avec le placage d'acajou du meuble ou du siège.

Send this article to a friend