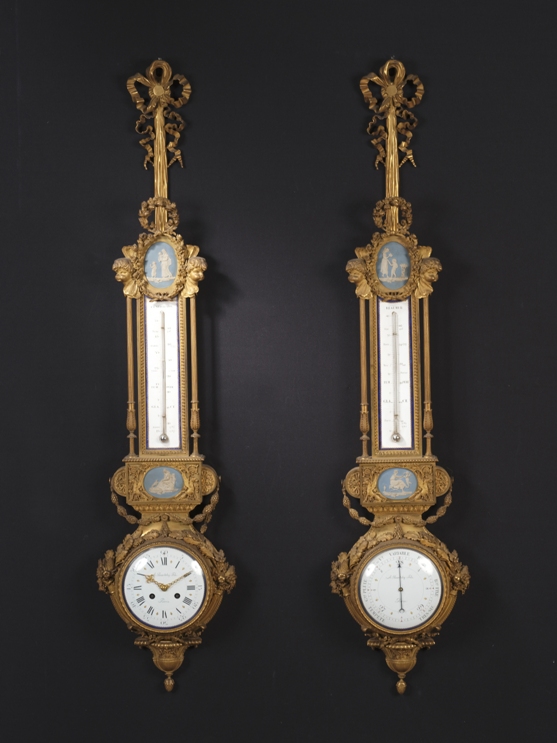 Guillaume Le Floc'h auctioneer, in Paris and Saint-Cloud, in collaboration with our experts specialized in free valuation and free appraisal will auction a French Louis XVI style ormolu clock, barometer and thermometer by Alfred Beurdeley Fils, the original is actually in the Louvre Museum,, Sunday 13th October in Saint-Coud.
Paire de cartels présentant horloge, thermomètres et baromètre en bronze ciselé et doré d'Emmanuel-Alfred (dit Alfred III) Beurdeley. Les cadrans circulaires en émail blanc à chiffres et lettres noirs et fleurs de lys dorées sont signés A BEURDELEY FILS Paris. Ils s'inscrivent dans des cornes d'abondance desquelles sortent des guirlandes de feuilles de chêne. Ils sont surmontés de médaillons dans le style de Wedgwood encadrés de griffons ailés et retenant des chutes d'épis de blé (accidents). Au dessus, deux plaques rectangulaires, à montants en colonnettes coiffés d'enfants souffleurs, forment deux thermomètres portant les mentions Réaumur et Centigrade. À l'amortissement se trouvent deux médaillons dans le style de Wedgwood dans des guirlandes de roses et deux rubans noués en partie supérieure.

Signés au dos : BY, Juvenaux et cachet MEDAILLE DE BRONZE S MARTI et Cie.

Style Louis XVI.

Vers 1890.

Haut. : 115 cm – Larg. : 25 cm – Prof. : 10 cm





Le modèle de nos cartels avec horloge et baromètre en pendant est pris sur un exemplaire attribué à Pierre Gouthière, anciennement conservé au château de Saint-Cloud et aujourd'hui exposé au musée du Louvre (inv.OA5493-94).



Notre paire peut être rapprochée de plusieurs paires produites par Beurdeley :

- Vente des collections Beurdeley, Palais d'Orsay, Paris, 16 mai 1979, lot 49 ;

- Vente Christie's Londres, le 25 mai 2000, lot 126 ;

- Vente Christie's Londres, le 30 septembre 2015, lot 49.



Une paire similaire est reproduite sur une photographie du stand d'Emmanuel-Alfred Beurdeley lors l'Exposition Internationale de Chicago de 1893 (reproduite dans le catalogue de la vente Beurdeley de 1979). Une dernière paire est reproduite dans Camille Mestdagh, L'Ameublement d'art français 1850-1900, Les Éditions de l'Amateur, 2010, p. 221.



La maison Beurdeley céda les droits de ce modèle en 1896 (ventes Beurdeley du 6 au 9 mai).



Emmanuel-Alfred (dit Alfred III) Beurdeley (1847-1919), est le troisième et dernier représentant de la maison Beurdeley. Il se spécialise dans la fabrication de copies de meubles de luxe conservés dans les collections nationales (Louvre, Mobilier National). Il participe brillamment aux Expositions Internationales de 1878, 1883, 1889. En 1895, il ferme ses ateliers et vend aux enchères l'intégralité de son stock et modèles, soit trois mille neuf cents quarante-cinq lots en quinze ventes.

Send this article to a friend