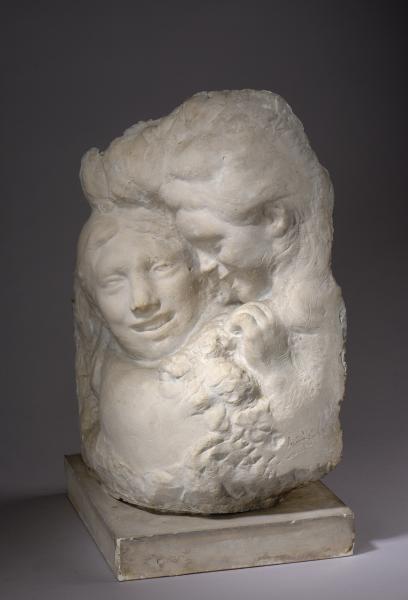 Guillaume Le Floc'h auctioneer in collaboration with our experts specialized in free valuation and free appraisal sold a plater sculpture by Emile Antoine Bourdelle, on Sunday 8th October in Saint-Cloud.
Emile-Antoine BOURDELLE (1861 - 1929).
Jeunesse (masque) ou Deux rires, 1898.
Plâtre signé en creux en bas à gauche (accidents, manques, restaurations, frottages en surface).
Trace de dédicace : « au vieil Charles Saunier amitié ? ».
Haut. : 47 cm - Larg. : 40 cm
Base en plâtre (accidentée) : Haut. : 5 cm - Prof. : 27 cm - Larg. : 34,5 cm
Provenance :
- Collection Charles Saunier;
- Descendance de Charles Saunier.
Bibliographie :
- « Emile-Antoine Bourdelle, sculptures » exposition au musée Ingres à Montauban, 13 juillet - 15 octobre 2000.
- Un autre exemplaire en plâtre est décrit sous le n° 44, dédicacé à madame Cladel, collection du musée Ingres, don de Mme Hatry en 1956.
- L'œuvre du musée Ingres s'intitule « Jeunesse » et se présente comme une mince feuille de plâtre, sans doute un surmoulage obtenu à partir de la pièce originale, marbre présenté au salon de la SNBA en 1898, sous le n° 16 : « deux rires ». On sait qu'il existe au moins deux autres exemplaires de plâtre offerts et dédicacés par Bourdelle à des amis. La documentation du musée Bourdelle mentionne un plâtre offert à Louis Popineau, un autre offert à Charles Saunier.
Œuvre en rapport :
- « Deux rires », marbre présenté au salon de la SNBA en 1898, sous le n° 16.
Estimate: 3,000/5,000 euros
Sold for 3,000 euros

Send this article to a friend