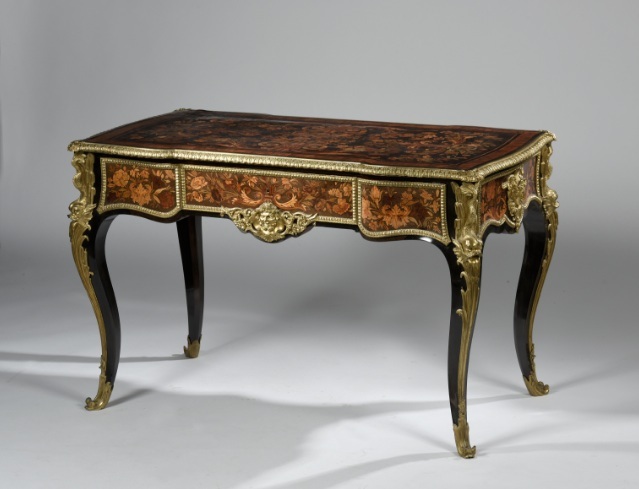 Guillaume Le Floc'h auctioneer in collaboration with our experts specialized in free valuation and free appraisal Authenticite auctioned a French parquetry desk by Linke.
Bureau plat plaqué d'ébène et de bois de violette à plateau rectangulaire contourné à haute ceinture chantournée posée sur quatre pieds cambrés. La façade abattante et coulissante présente un écritoire à quatre niches et quatre petits tiroirs. Les panneaux sont finement marquetés de volutes de feuillage agrafées, de fleurs polychromes épanouies et papillons. L'intérieur en bois de rose et acajou est plaqué d'amarante et loupe d'érable (très légers soulèvements et fentes sur l'angle gauche du plateau).
Importante ornementation de bronze finement ciselé et doré : lingotière à frise de fleurons, encadrements de panneaux à frise de rais de cœur, centre des traverses à mascarons, chutes à dauphins parmi des ajoncs et bouts de pied à enroulement.
Attribué à François Linke, vers 1880.
Haut. : 80 cm - Larg. : 131,5 cm - Prof. : 73,5 cm

Notre bureau plat se distingue par son exceptionnelle marqueterie de fleurs tant sur le plateau que sur la ceinture que l'on peut rapprocher des œuvres des deux grands ébénistes de Louis XIV, Pierre Gole et André-Charles Boulle, inspirée des tableaux de Jean-Baptiste Monnoyer.
L'emploi de chutes aux dauphins, la qualité de leur dessin et de leur ciselure est une caractéristique que l'on retrouve chez deux fabricants de meubles de la seconde moitié du XIXe siècle, Gervais Durand et François Linke.
On retrouve un motif de dauphin similaire en applique et non en chute sur le bureau dit « Le Grand Bureau » exécuté par François Linke et Léon Messagé, présenté lors l'Exposition Universelle de Paris en 1900 et qui reçu la médaille d'or du jury.

Le masque de Bacchus reposant sur un profond motif de cuir découpé entièrement lisse est aussi caractéristique des bronzes de François Linke.
Ces différents points nous incitent à attribuer notre bureau à François Linke.

Linke François (1855-1946), ébéniste français, ouvre son premier atelier au Faubourg Saint-Antoine en 1881 mais c'est à partir de 1900 que sa carrière et ses ateliers prennent leur plein essor avec la médaille d'or reçue pour le Grand Bureau et son fauteuil. Il ouvre alors un magasin place Vendôme, actif jusqu'à la seconde guerre mondiale.
Estimate: 5,000/7,000 euros
Sold for 15,000 euros

Send this article to a friend