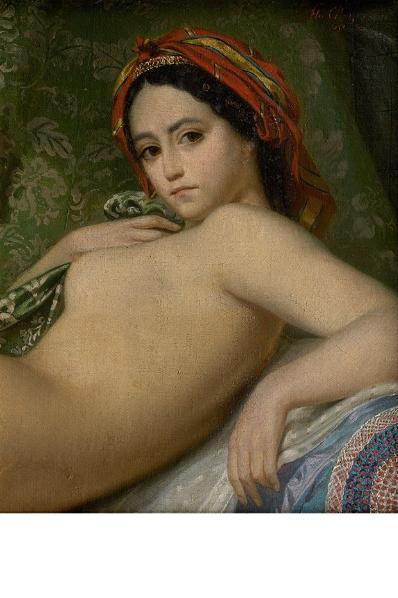 Aguttes auctioneer in collaboration with our experts specialized in free valuation and free appraisal will auction an oil on canvas by Theodore Chasseriau, Naked Girl, an oil on canvas.
Attribué à Théodore Chasseriau (1819-1856)
Jeune femme, 1851
Huile sur toile marouflée sur carton, porte une signature et une date en haut à droite
29 x 23 cm
Estimate: 10000/15000 euros
Le nu féminin, isolé ou intégré dans de grandes compositions, occupe une place de premier plan dans l'oeuvre de Théodore Chassériau. Né en 1819 à Saint-Domingue, il est le ls de Benoît Chassériau, homme politique et diplomate français en Amérique du Sud. Théodore rejoint la France en 1822 avec ses frères et soeurs. Il entre à l'âge de onze ans dans l'atelier de J.-A.-D. Ingres où il étudie pendant quatre ans. En 1846, il effectue un voyage en Algérie qui nourrira son imaginaire artistique durant sa vie entière. A la même période, il se tourne vers l'art et la leçon de Delacroix après avoir rompu ses liens avec Ingres au début des années 1840. Sa peinture est souvent considérée comme un subtil mélange entre l'inuence de ses deux maîtres, dont il hérite un goût commun prononcé pour les sujets orientalistes.

Cette tentation de l'Orient contamine la représentation de ses nus, prenant des allures de femmes de harem comme dans notre toile. Une délicate jeune lle est allongée, élégamment accoudée sur un divan, fixant de ses profonds yeux noirs le spectateur. Ses cheveux retenus par un foulard en soie ainsi que le bijou en or scindant son front l'identient d'emblée comme une femme orientale. Le thème et la pose rappellent par bien des égards les odalisques d'Ingres, tout comme le traitement ingresque du visage, lisse et idéalisé. Tout le charme de la toile réside dans le jeu implicite suscité par l'attitude de la jeune femme : de sa main droite elle semble vouloir couvrir son corps d'une étoffe tandis que le regard qu'elle adresse directement au spectateur, qui le place dans une situation de voyeur, constitue également une invitation à contempler sa nudité.

Grâce à cette ambiguïté latente, Chassériau livre une image saisissante de la femme d'Orient ainsi qu'un moment suspendu entre volupté, érotisme et chasteté.
Courtesy of Aguttes

Send this article to a friend