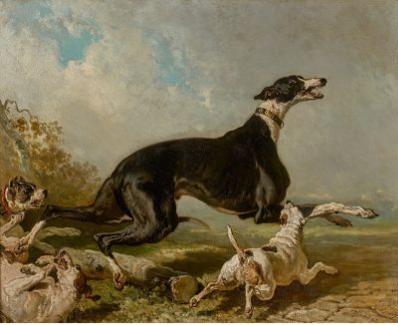 Aguttes auctioneer in collaboration with our experts specialized in free valuation and free appraisal will auction an oil on canvas by Alfred de Dreux.
Alfred de Dreux (1810-1860)
Les frères ennemis, chiens attaquant un lévrier, 1857
Huile sur toile, signée et datée en bas à droite
66 x 82 cm

Bibliographie

Albert Flament, Renaissance de l'art français, avril 1921, Un peintre sportman et dandy: Alfred de Dreux
Renauld Marie-Christine, Alfred de Dreux, Le cheval, passion d'un dandy parisien. Janvier 1997. pages 143 et 165.
Renauld Marie-Christine, L'univers d'Alfred De Dreux, suivi du catalogue raisonné, Arles, Actes Sud, 2008, reproduit sous le n° 339, page 77.

Exposition
Ecole 1830, Galerie Georges Petit, 1913, Paris
Provenance
Collection Foinard
Collection Frédéric Mallet Galerie Georges Petit, mai 1920, n°27
Collection privée
Estimate: 40,000/60,000 euros
Alfred de Dreux, portraitiste et peintre animalier reconnu, naît en 1810 et décède en 1860 à Paris. Fils d'un architecte ayant obtenu le prix de Rome d'architecture de 1815, il séjourne en Italie durant son enfance. Par l'entremise de son oncle, Alfred de Dreux fréquente Théodore Géricault qui inuencera largement sa peinture, notamment par le biais d'études et de représentations de chevaux, et qui fera de lui plusieurs portraits. Alfred de Dreux étudie également auprès de Léon Cognet avant de commencer à recevoir des commandes ofcielles dont la première est un Portrait équestre du duc d'Orléans et sa garde, en 1842. Sa peinture, synonyme éternel de rafnement, devient très en vogue en France et en Angleterre où il séjourne fréquemment. L'artiste achève sa carrière à Paris dans son atelier de la rue de Douai où il peint au service de la famille impériale et de l'aristocratie européenne.

Le sujet de notre toile fait partie des classiques d'Alfred de Dreux : une peinture animalière représentant des chiens attaquant un
grand et majestueux lévrier noir. La touche du peintre est élégante et de nature hétérogène : la minutie et la précision avec lesquelles est rendu le pelage soyeux du lévrier tranche résolument avec l'aspect plus brossé et rugueux du paysage, dans lequel l'inuence de Rousseau est sensible.

La prouesse technique relève également de la représentation du mouvement, dans laquelle De Dreux est passé maître. En effet,
l'artiste représente les quatre chiens lors d'un moment précis : le lévrier bondi an d'échapper à ses agresseurs dont l'un deux, sur le dos, s'est retourné dans sa course. Les corps des chiens en tension, le regard du lévrier empreint de stupeur, la brutalité manifeste de ses adversaires sont autant d'indices de la virtuosité expressive du peintre. Cette scène de chasse purement animalière, témoigne de la puissance d'invention d'Alfred de Dreux. Les Frères ennemis, chiens attaquant un lévrier, traduit parfaitement le talent d'un artiste qui s'est attaché toute sa vie à la représentation de la force et de la fougue animales, et dont la peinture animalière a grandement contribué à la renommée européenne.
Courtesy of Aguttes

Send this article to a friend