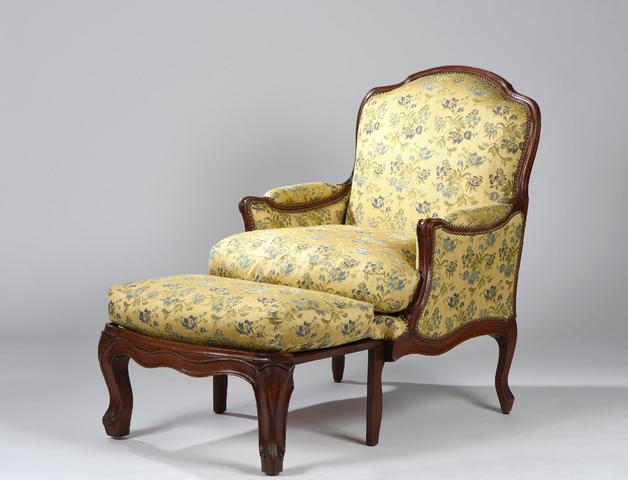 Sequana auctioneer in collaboration with our experts specialized in free valuation and free appraisal Authenticite will auction on the 28 January in Rouen, a Louis XV bergere signed Delanois.
Bergère à dossier plat en noyer mouluré,
la ceinture extensible formant bout de pied, reposant sur six pieds cambrés.
Estampille L Delanois.
Epoque Louis XV (restaurations, le bout de pied en partie refait) Belle garniture de tissu broché de branchages feuillagés et fleuris sur fond jaune.
100 x 74 x 65 cm
A LOUIS XV WALNUT BERGERE STAMPED LOUIS DELANOIS
Note :
Delanois Louis (1731-1792), reçu maitre le 27 juillet 1761, il est un des plus grands menuisiers en siège de la fin de la période Louis XV et du début de la période Louis XVI. Il forma notamment Georges Jacob. Il compta parmi sa clientèle, la Comtesse du Barry dont il meubla le pavillon de Louveciennes, le Comte d'Artois, le Prince de Condé, le Duc de Chartres ainsi que le Roi de Pologne Stanislas II. Peu de bergères extensibles nous sont parvenues, citons en particulier celle estampillée M Pollet vendue en 1997 par l'étude Million.
Estimate: 5,000/7,000 euros

Send this article to a friend