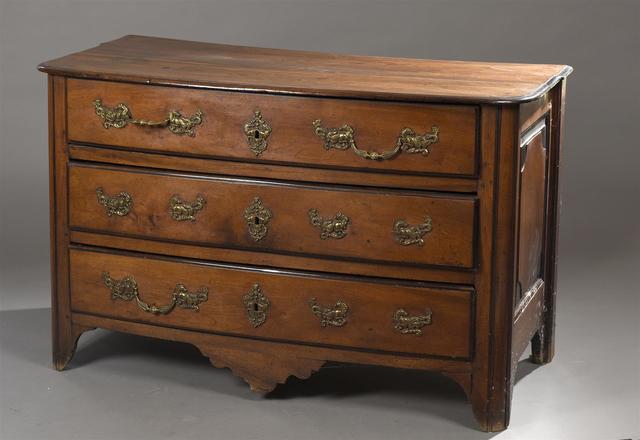 Philocale auctioneer in collaboration with our experts specialized in free valuation and free appraisal Authenticite will auction on the 01 April near Chambery, a French commode attributed to Hache A Grenoble.
Commode à façade cintrée en noyer mouluré et noirci ouvrant par trois tiroirs.
Importante garniture de bronzes aux chevaux marins tels que mains tombantes et entrées de serrure.
Travail grenoblois début du XVIIIe siècle, entourage de Pierre Hache.
H. 83 cm L. 130 cm P. 61 cm
Accidents, fentes et restaurations dans les fonds.
Note :
Notre commode peut être rapprochée de meubles sortis des ateliers Hache à Grenoble à plusieurs titres : - l'emploi du noyer noirci pour souligner les moulures des tiroirs, des montants ainsi que le panneautage des côtés. - les bronzes aux chevaux marins semblent être une exclusivité de l'atelier des Hache que l'on retrouve sur quelques meubles du premier tiers du XVIIIe siècle issus de leurs ateliers.
Estimate: 2,500/3,500 euros

Send this article to a friend