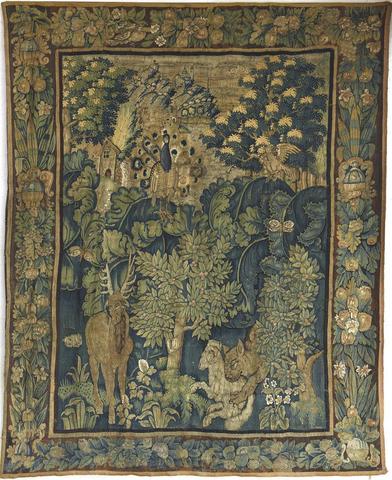 Philocale auctioneer in collaboration with our experts specialized in free valuation and free appraisal Authenticite will auction on the 01 April near Chambery, a 16th century tapestry.
Ateliers de la Marche, Audenarde ou Enghien
Tapisserie dite "à la feuille de choux" ou "aristoloche" ornée d'un paysage montagneux avec grands feuillages, village fortifié et nombreux animaux (rapace, lion, bélier, cerf, paon etc).Bordure ornée de fleurs, feuillages et oiseaux.
Seconde moitié du XVIe siècle.
287 x 210 cm (à vérifier) Restaurations, doublée.
Bibliographie :Dario Boccara, Les belles heures de la tapisserie, Les clefs du temps, Zoug, 1971, pages 102 et 103.
Estimate: 10,000/15,000 euros

Send this article to a friend