Luxury objects from their origin, wanted by kings, princes and nobles in the sixteenth century, the works of art produced in Sicily in Trapani continue to appreciated by collectors and curators.
It is from the early sixteenth century to the late eighteenth century that the city of Trapani develops workshops specialized in the production of objects ornate with corals.
Coral, from the Mediterranean is characterized by its highly nuanced red, up to pale pink.
Before starting to work the coral branches, the craftsman selected the pieces according to their colors, their shapes and sizes.
Mirrors, crucifixes, candlesticks, monstrance, tables and occasional tables produced by the workshops of Trapani are distinguished by their use of coral either branches or pieces. Sought since ancient times coral is fished in the Liguria Sea and considered divine and magical by the three monotheistic religions
It is interesting to note that corals could be associated with noble materials such as gold, silver and vermeil but very frequently on much more common materials such as copper, brass, gilt wood or enamel.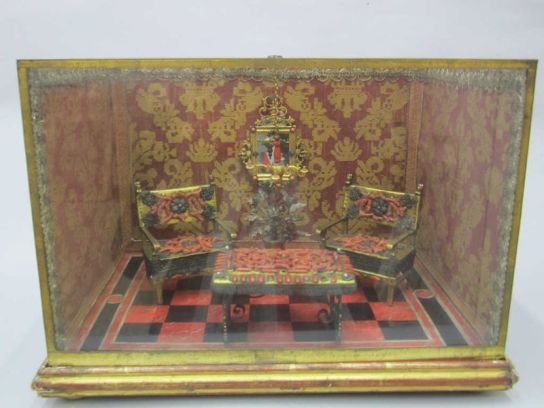 Along with Trapani, another center also developed in Italy in Naples. It employed artisans who fled Trapani in the years 1672-1673 after the city experienced reprisals following its insurrection.
Objects that have survived reveal abundant production both in quantity and quality and from the sixteenth century of churches and the aristocracy had to own artwork decorated with coral.
The majority of the works found today on the art market are religious and furniture and mirrors remain outstanding. Religious objects are generally distinguished by the use of branches, while the production of decorative art is more based on a work of incrustation even if the coral is not, strictly speaking, but embedded in the work still in relief.
Once prerogative of princes, works of art produced in Trapani are now the pride of public and private collections and the appearance of a piece produced in Trapani is always an event at auction, greeted by sustained and a remarkable selling price.
Cedric Henon, continental furniture specialist


Images: Art Valorem

Send this article to a friend