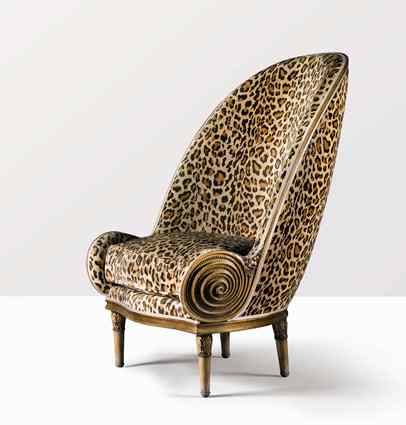 11 and March 12, Sotheby's in partnership with SVV Artcurial auction dispersed in three vacations, the collection of Felix Marcilhac, figure of the art market, antiques dealer and recognized and undisputed expert in Art Deco.
Collected over the past 40 years and consisting of works of the greatest artists and creators of the first half of the twentieth century often at prestigious provenance, Doucet, Noailles and Lanvin, 316 lots auctioned widely exceeded estimates with total sold 24.7 million and established 21 world records ..
You will find below our Coup de Coeur.
Lot 6, armchair in molded and carved walnut, entirely lined with silk in imitation of leopard skin titled Nautilus Chair, dated 1913 and signed by Paul Iribe (1883-1935) soared to 781,500 euros establishing a world record for the artist. (Main picture)
Lot 38, a console, circa 1924, in nickel perforated metal plate supporting a tablet and a glass stretcher executed by Pierre Legrain (1889-1929) were sold for 613,500 euros.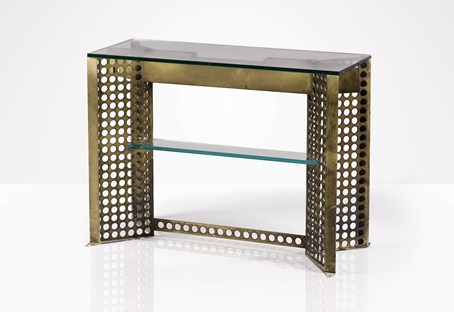 133,500 euros were paid for the lot 39, a pair of door handles in silvered bronze depicting two ferrets and executed in 1931 by the sculptor Gustave Miklos (1888-1967).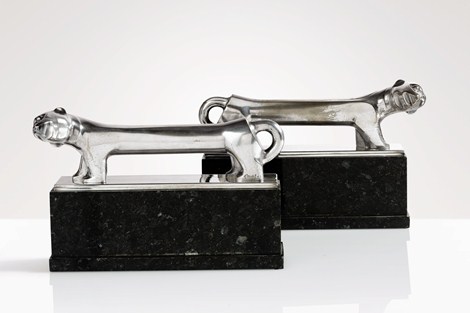 Another chair this time by Marcel Coard (1889-1975) in parchment, rosewood and mother of pearl (lot 44) was sold for 445,500 euros.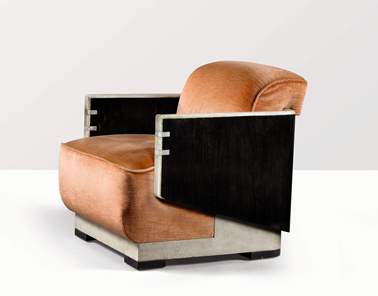 Conclude this review with a polychrome Aubusson tapestry (lot 89) depicting a black panther and a parrot dated 1921 and executed after a cartoon by Paul Jouve (1878-1973) sold for 193,500 euros. Significant result with regard of the market for modern tapestry that is difficult to sell at auction today.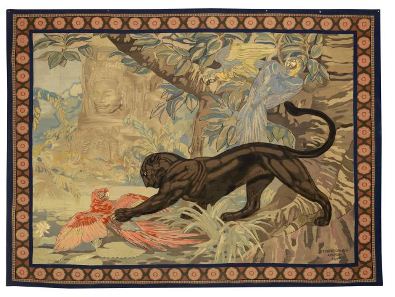 Those few results and the enthusiasm that this sale has generated both in France and in Europe and the United States show us that today collectors, dealers and museums (several pre-emptions) are looking for paintings, furniture and works of art of exceptional quality and the popularity of Art Deco art has not failed since the sale Saint-Laurent/Pierre Yves Bergé.
Images: Art Digital Studio /Sotheby's France

Send this article to a friend