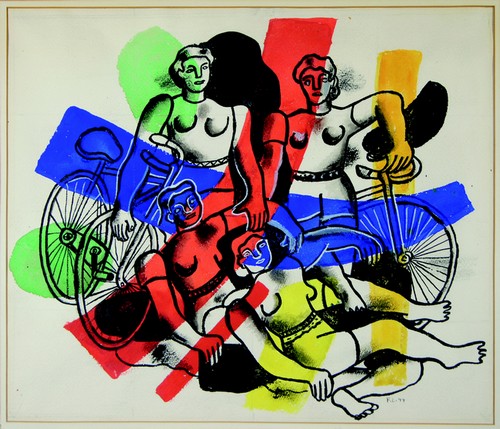 Rendezvous of lovers and collectors of beautiful drawings, the 21st edition of the Salon du dessin will be held in the Bourse de Paris from March 28 to April 2. Take a sneak preview, our selection of five exceptional drawings old masters, modern and contemporary.
1 – Boilly

The Older Sister executed by Louis Boilly (1761-1845) does not lack charm. Preparatory drawing for a painting, it perfectly expresses the specific work of this great artist, a contemporary of Napoleon, in representing scenes of everyday life.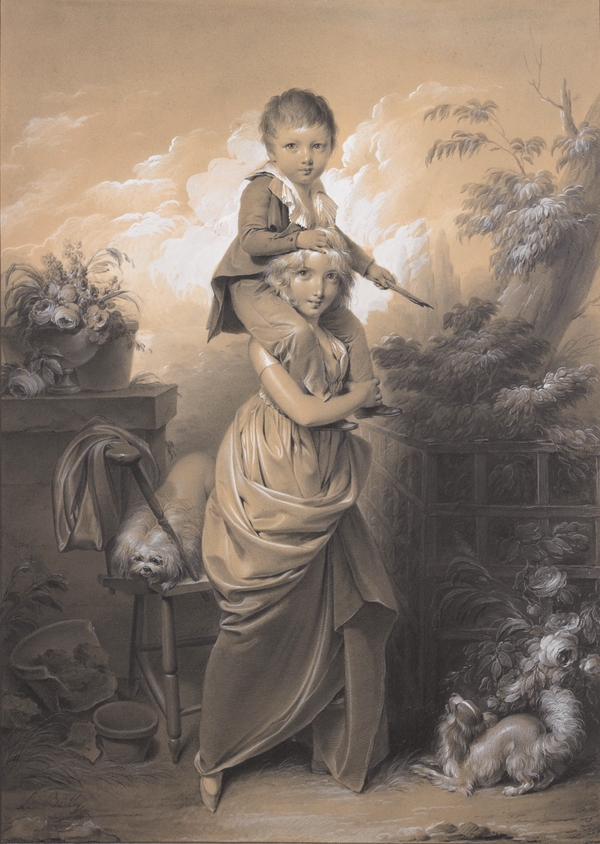 Louis-Léopold Boilly (1761–1845), La grande soeur, pierre noire et estompe, craie et gouache blanches. Dessin signé à l'encre brune en bas à gauche : « L Boilly ». 474 x 339 mm. © Talabardon & Gautier/ Art Digital Studio

This beautiful drawing exhibited by the Parisian gallery Talabardon and Gautier, should easily sell more than 200 000 € ...
2 –George Sand
Amantine Aurore Lucile Dupin, better known as novelist by her nickname, George Sand (1804-1876) is much less known for her drawings and watercolors.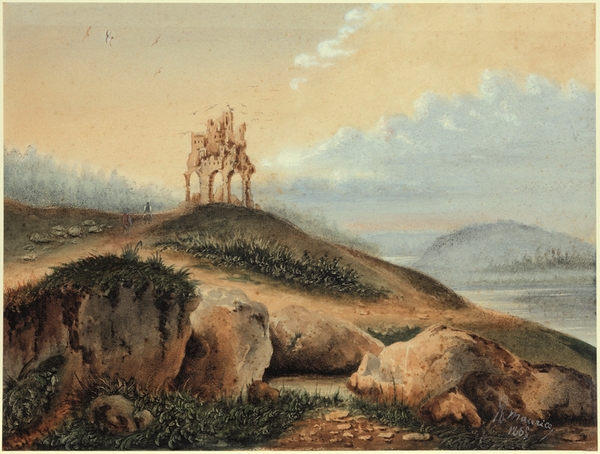 George Sand (1804 – 1876), Paysage avec un château, 1865 . Aquarelle datée et annotée en bas à droite. 260 x 380 mm

The gallery owner Jill Newhouse of New York will present at the Salon a rare romantic watercolor of this illustrious artist who never stopped painting, and inventor who was even at the end of her life an artistic technique, the dendrite, which will later be adopted by the Surrealists.
3 –Spilliaert
One could imagine it directly to out of a contemporary artist's studio. Seawall and beach is however a Chinese ink dating back over 100 years!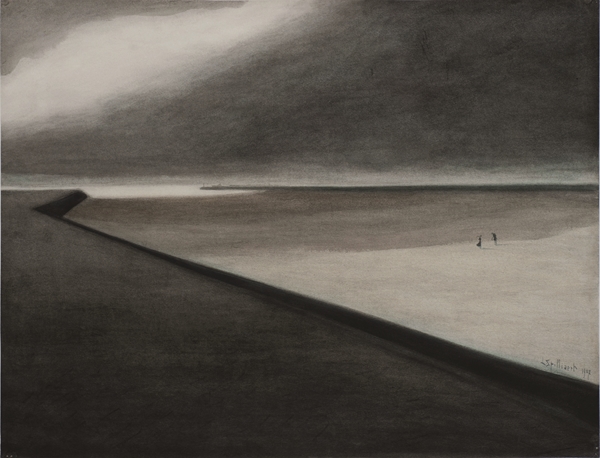 Léon Spilliaert (1881 – 1946), Digue et plage, 1907. Encre de Chine, lavis et crayons de couleur sur papier. Signature et date en bas à droite. 194 x 639 mm. © Luc Schrobiltgen, Bruxelles

Exhibited by Patrick Derom Gallery of Brussels, it perfectly expresses the modernity of the Belgian painter Spilliaert (1881-1946), and announces perfectly geometric abstraction of the twentieth century.
4 –Bussy
The museums of Beauvais, Dole and Roubaix have devoted an exhibition in 1996. Simon Bussy (1870-1954), however, remains still unknown to the public. Pastels on paper, with vivid colors, are not lacking interest.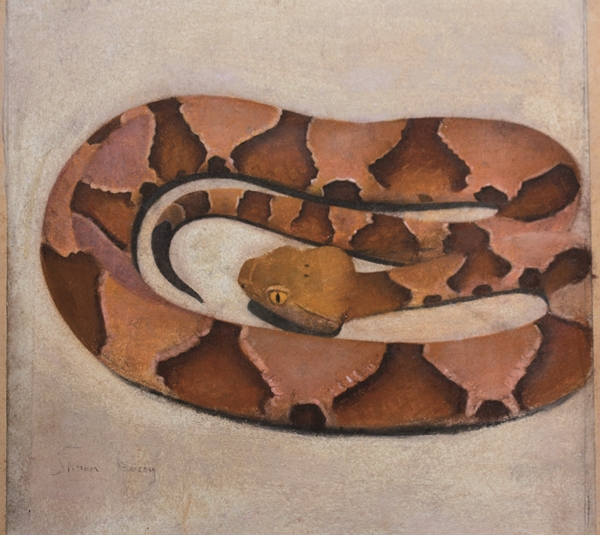 Simon Bussy (1870 – 1954), Serpent à tête de cuivre, circa 1930. Pastel sur papier signé en bas à gauche. 240 x 257 mm

The gallery owner Vincent Lecuyer pays tribute to him by introducing to visitors to the Salon, an elegant snake copper head of its Art Deco period. It's priced at around €30,000.
5 –Brauner
Dadaist and surrealist Breton would say he was the magical artist. Victor Brauner (1903-1966) is indeed one of the most unique artists of the twentieth century.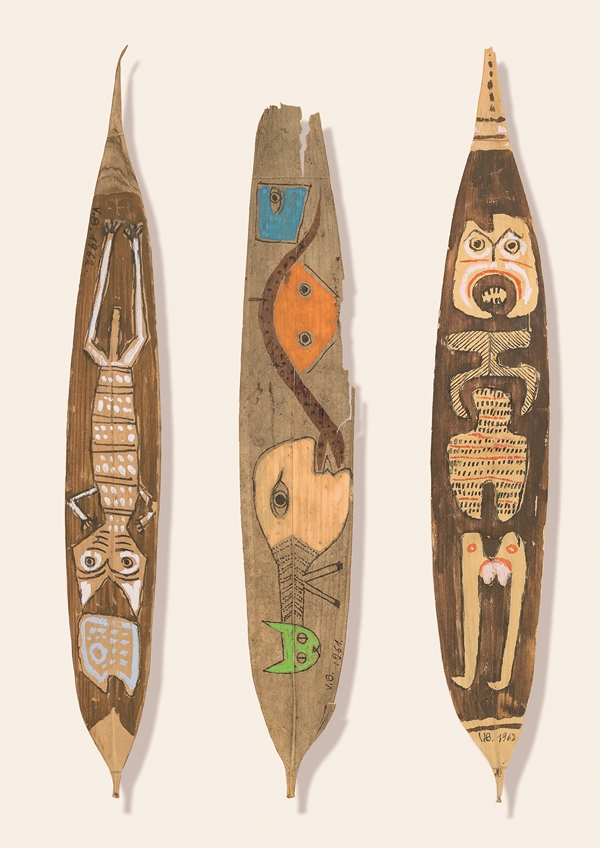 Victor Brauner (1903-1966),Trois Feuilles chamaniques. Encre et gouache sur feuilles de bambou.Signées individuellement V.B 62 ; V.B 62; V.B 61. Environ 260 x 40 mm par feuille.

Drawn on bamboo leaves, the three shamanic drawing exhibited by Galerie Brame and Lorenceau, are a very good illustration of his talent at the confluence of art from Africa and Oceania and the occult.
Laurent HACHE
Informations :
Place: Palais de la Bourse Place de la Bourse – 75002 Paris (métro Bourse – parking)
Dates : From Wedensday 28th pril 2012
Opening time : 12h to 20h30
Closing at 20h00 on Monday the 2nd
Evening : Thursday 29th March until 22h
Entrance : 15 euros
Web Site : www.salondudessin.com


Feel free to contact our fine art specialists if you want to appraise your works of art. We also assist you in the selling of your works of art : consultancy.

Crédits photographiques :
Illustration principale : Fernand Léger, Les cyclistes, 1944, gouache sur papier monogrammée et datée en bas à droite. Prix de vente : environ 300 000 €. Copyright galerie Zlotowski

Send this article to a friend