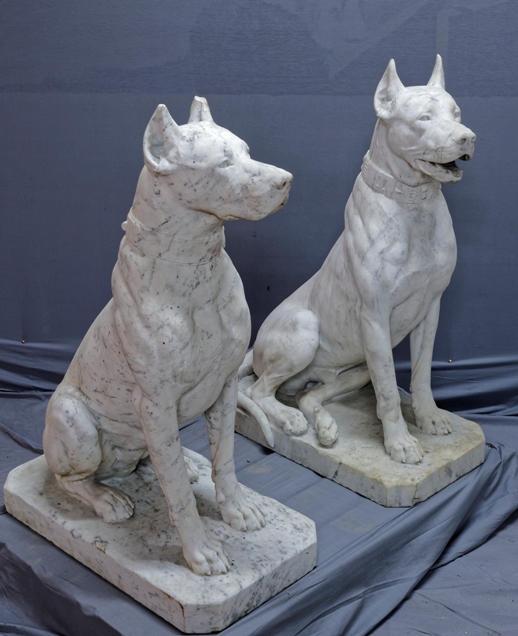 Saturday, November 29 will be auctioned at Blaye, under the hammer of Maitre Guignard, with the assistance of our expertise and specialists, an exceptional pair of sculptures in blue marble, Roy and Myrra, signed Georges Gardet.
Georges Gardet (1863-1939)
He was a student of Aimé Millet and Emmanuel Frémiet at the Ecole des Beaux-Arts, and became very fast an animal sculptor of great skill, particularly appreciated for its powerful groups of wild animals.
At the age of twenty, he started at the Salon of French Artists. In 1887, he obtained a first success with his group "Panther and Python" which was placed, in bronze, in Montsouris park where you can still see it.
Gardet produced not only casts that are often translated into bronze, but also works in marble, sometimes several colors, onyx or other various materials which are controlled by wealthy customers who want to keep portraits of their pets.
Our lot
Roy and Myra
Danish dog sitting and Danish female dog sitting forming pair, carved in blue turquin marble resting on a rectangular terrace with canted.
Signed and titled on the terrace "Gardet G", "Roy", "Myrra."
106 x 40 x 77 cm
(Wear and a few accidents in the ears)
Provenance: Private Mansion Bordeaux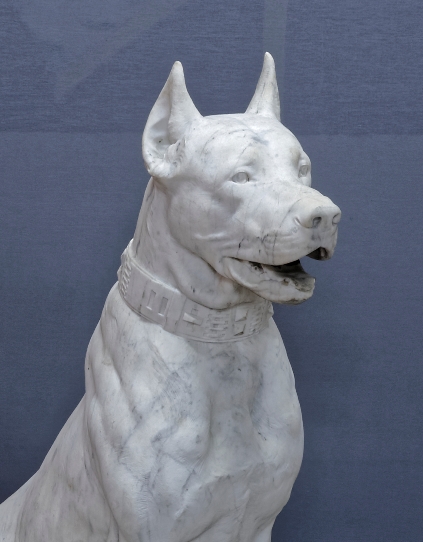 Our pair of sculpture in the work of Gardet
Our pair of sculptures fits perfectly into the canine corpus carved by our sculptor in marble:
- Danish Dog lying in blue turquin marble in the Musée des Beaux-Arts de Lyon, Inv B649 and dated 1894.
- Danish dog and female Danish dog in blue turquin marble preserved in the Musée Condé in Chantilly, Inv OA29 and OA30 and dated 1897.
- Dog Danish in blue turquin marble kept in the park of Ivry sur Seine and dated 1889, date of its acquisition by the city of Paris.
Our sculptures show the caracteristics of these works with the use of marble in particular blue turquin which helps improve the characteristics of the Danish coat of dogs, and dogs that the model seems to be the same for each of them. Our artist seems to have carved these animals following a study carried out on the model.
According to the four works mentioned above, our pair of dogs can be dated between 1880 and 1900.
Note that a pair of dogs sitting, on the art market in the USA, was executed in biscuit by the Sevres factory, and are dated 1906 and measures 30 cm high.
The monumental works of carved Gardet are rare and most are now in museums or are part of monuments such as the lions of Alexander III bridge.
Estimated between 15 and 20 000 Euros, our pair of Danish dogs could spring a surprise in addition interesting antique shops and designers but also both French and foreign museums.
Information:
TGGV Huissiers & Associés
Auction: Saturday, November 29 at 11am
Viewing: Saturday, November 29 from 9am to 11am
Location: 114b, rue de l'Hôpital 33390 Blaye, France

Send this article to a friend