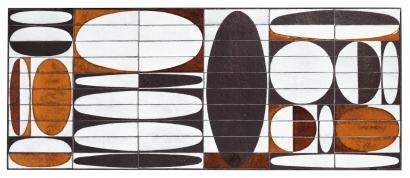 Vallauris "Land of Fire" was originally a flatware factory before becoming a art factory . It knows a real expansion in the 50s with the opening of the workshop Madura which attracts many artists such as Robert Picault, Juliette Mazaudois or even Pablo Picasso, marking the revival of local ceramics.



Roger Capron (1922-2006) is part of this group. After his studies at the School des Arts Appliqués in Paris, he discovered ceramics and strives to implement the motto of his master René Gabriel: "do good to everyone." In 1952, he moved to Vallauris, where he opened a creation factory. He made ​​objects for souvenir shops as well as decorative panels and develops multiple production. He met Pablo Picasso whom he often speaks.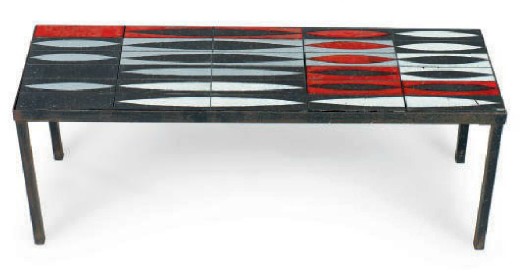 Until 1965, he created objects cast typical of the 1950s by their free forms such as bowls, vases, stylized birds often decorated with a grid in reserve of paraffin characteristic of its production.

In the late 1950s, its utilitarian objects are very successful and he works on a production of tiles and decorative panels. Then he produces pieces in high relief close to sculpture.

His entire career has been punctuated awards up to the ultimate tribute dedicated to him in 2003 Musée de la Ceramique de Sevres with the retrospective exhibition of his work.

Production of Roger Capron are very popular in auction rooms. There are essentially tables and vases. Tables such as the model "navette "very representative of the 60s is worth between €500 and €2500 while radiating pattern tables can be worth up to €7000.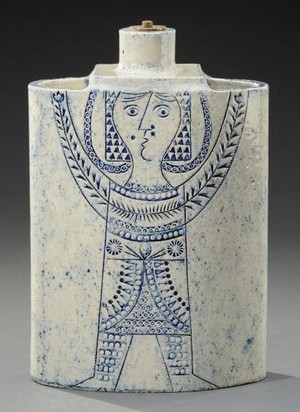 The vase such as cylindrical model "pyjama" composed of small glazed polychrome tiles and signed "Capron Vallauris" costs between €600 and €800. For its part, a lamp base oval glazed stoneware blue and white with embossed decoration of a young woman with arms raised signed with the hollow stamp "Capron Vallauris France" will sell between €800 and €1200.

Directory geometric and dreamlike Capron continues to liven the amateurs of art and ceramics and the prices are reasonable in comparison to the production of Pablo Picasso ( recently over €15,000 depending on model).

Artist known and recognized, there is still much to rediscover of the production of Roger Capron in Vallauris.


Bérénice Cugnière

Credit photo: courtesy of Christie's, courtesy of Aguttes.
Feel free to contact our fine art specialists if you want to appraise your works of art. We also assist you in the selling of your works of art : consultancy.

Send this article to a friend