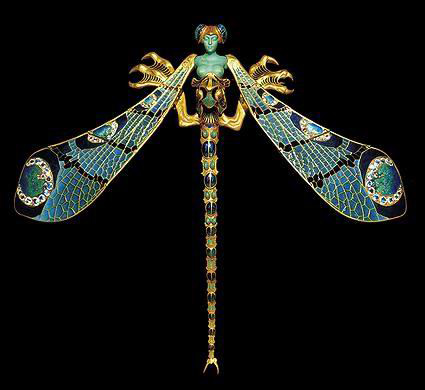 René Jules Lalique (1860-1945) is one of the most famous jewelers and glassmakers of the movements Art Nouveau and Art Deco. His name is today one of the most prestigious for luxury in the world.
It is at the Universal Exhibition of 1885 the world discover Rene Lalique as a jeweler. His designs are innovative in the use of unusual materials such as glass, enamel, leather, horn, mother of pearl, combined with fine and precious stones. He was the first to successfully alloy glass and metal.
The Pectoral the dragonfly (main picture), a masterpiece of the 1900 Universal Exhibition is the most beautiful manifest of his work. Bold mix of shapes micro fauna and flora, insects and creepers are popular motifs of Art Nouveau.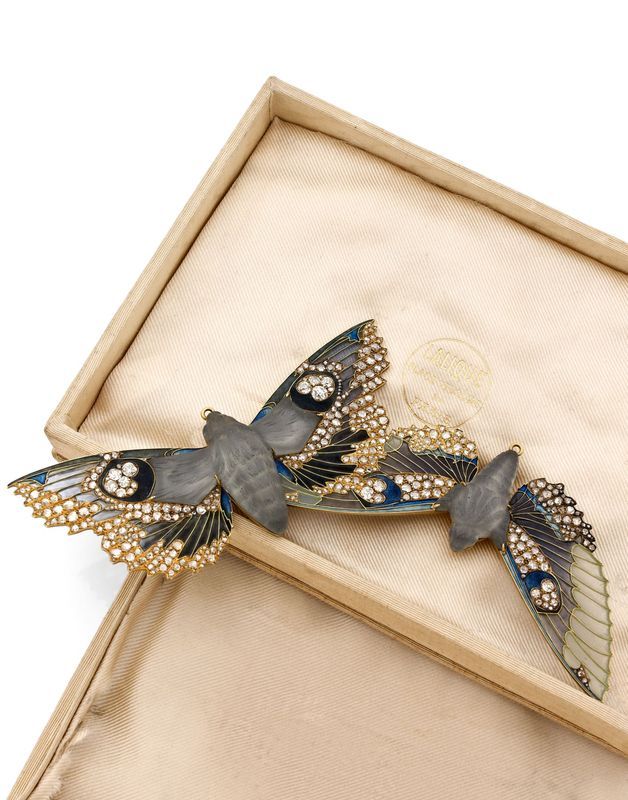 Lalique creates pieces for Boucheron and "Bing" gallery, main reference of Art Nouveau in Paris. Many women of the aristocraty and the bourgeoisie then wear his creations such as the Marquise Arconati Visconti or Countess Bréan. He also produced many jewels for the actress Sarah Bernhardt, especially the one for the play Theodora.
Lalique then starts to the work of glass he began experimenting with jewelry, he introduces numerous patents such as pressed or molded glass double bottom.
With its success, in 1895, a number of his works enter in museum with Lalique still alive.
The enthusiasm for the production of René Lalique is significant from 1991 through retrospective exhibition devoted to him the Musée des Arts Decoratifs.
A pendant pin (second illustration) preserved in its original box was auctioned last year by Artcurial for £320,000...
The prices of his jewelry are rinsing. They have become one of the must have in the art market.
Bérénice Cugnière
Illustrations: courtesy of Artcurial

Send this article to a friend