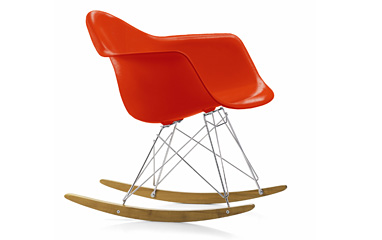 Ergonomic, economic, aesthetic, practical ... These are the qualities that can be attributed to the chair named RAR (Rocking Arm Chair Rod Base) by Charles and Ray Eames. Emblematic of Design, it crossed the decades without a wrinkle and always wins a huge market success.
Ray and Charles Eames are the creators. Presented for the first time under the Low Cost Furniture Design Competition organized by the MOMA (Museum of Modern Art in New York), the RAR contributed to the success of this pair of American designers who exerted a major influence in the production of twentieth century.
Together they are developing quality furniture, functional and comfortable but still accessible to the American middle class, thanks to the beginnings of mass production.
Its base in polyester reinforced fiberglass rests on a base of metal rods (chrome or painted) and the arched wooden runners: a genuinely new composition according to its needs, the client had the opportunity to spend to balance this seat to a seat fixed to 4 feet.
This specificity significantly reduced manufacturing costs.
Moreover, its hull replaces the traditional upholsters and makes this model the first plastic chair in history.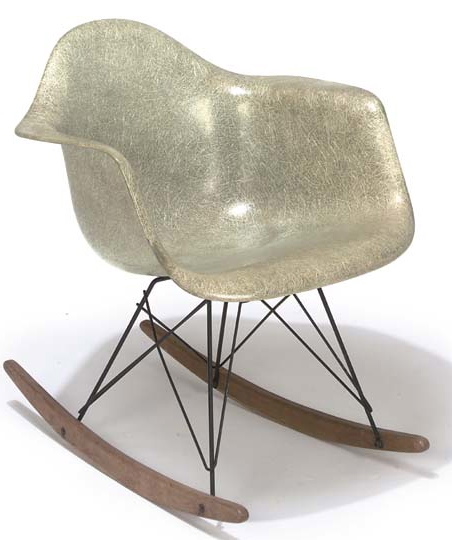 Developed in 1950, Herman Miller is the publisher who produced the first RAR chair, until 1972. During the first three years, it delegates the molding of the hull to Zenith Plastics. The model then has a certain density of fiberglass and is named due to Rope Edge rope motif that is found along its contours. These are then Modernica and Vitra which take over the manufacture, until today. Note that since 2005, Vitra is no longer using the polyester reinforced fiberglass molding but polypropylene: a kind of plastic with a smoother look.
Depending on the publisher and its age, an armchair RAR can be worth between € 200 and € 3500. Most wanted are the famous Zenith Rope Edge Plastic.
General condition is also a major factor: the chair must be properly maintained while showing signs of wear commensurate with age.
If the parts that compose it are all original you own a gem! But often the base, which is the most sought its composition was changed somewhat and it devalues ​​the chair.
Finally, the price may depend on the color: for example the Grey Elephant is rarer and more prestigious than the orange.
The chair RAR is a model that is regularly sold at auction or galleries specializing in twentieth century furniture. But as it continues to be published today, you can also get this in the new decoration shops, or online. But beware of fakes!
Charlotte Meniaud
XXth century art specialist
Feel free to contact our fine art specialists if you want to appraise your works of art. We also assist you in the selling of your works of art : consultancy.
Images:
1-Courtesy of Vitra / Eames.
2-Courtesy of Christie's.

Send this article to a friend