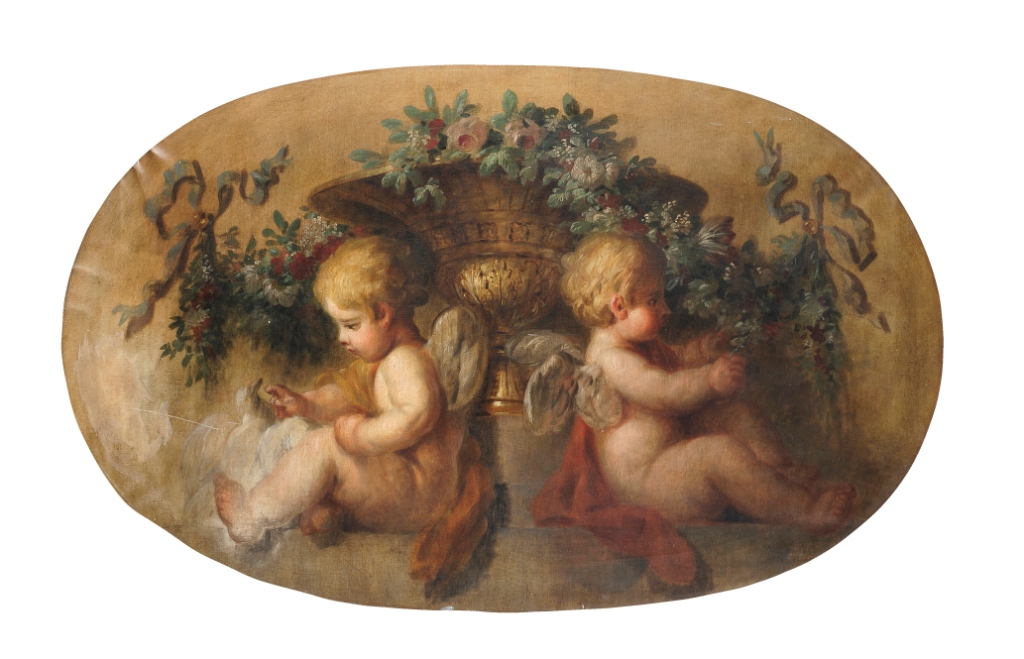 June 14, Authenticité expertise in partnership with the SVV Art Valorem will sell in Paris at auction drawings, old and modern paintings, jewellery and silverware and antique furniture and objects of arts. 366 lots will be offered for sale with estimates for some objects from a few tens of Euros. I invite you to discover my favourites.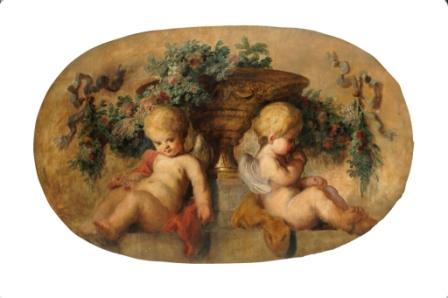 Lot 53 is a pair of charming oval oil on canvas from a follower of Christophe Huet, a leading painter of the late eighteenth century, depicting putti backed a vase of flowers. These paintings date from the late nineteenth century and can be used above a door. They measure 73 cm high by 115 wide and are estimated fairly modest in terms of their highly decorative effect 2.000 to 3.000 Euros.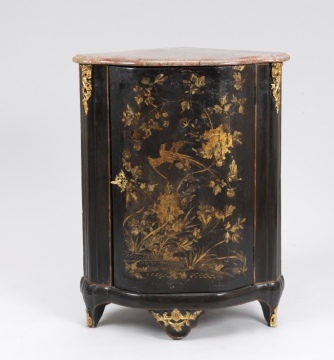 Pierre Fléchy is the author of lot 327 which is a beautiful corner cabinet in black wood with polychrome vernis Martin opening by a door. The naturalistic style Chinese decor consists of a bird in branches of foliage and flowers. It stands on cabriole legs and has rich ormolu ornamentation. It dates back to the Louis XV period. 2.000 to 2.200 Euros are expected for this piece characteristic of the taste for "chinoiserie" at that time.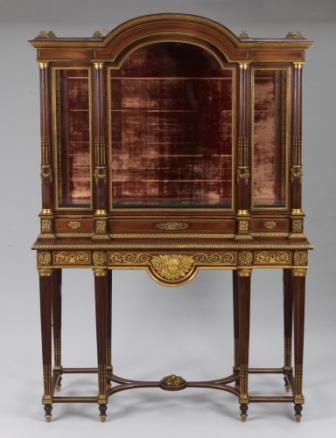 Estimated 10.000 to 12.000 Euros, Lot 345 is the work of renowned furniture designer the late nineteenth century, Guillaume Edmond E Lexcellent. This is an important showcase of rectangular shape made of mahogany and mahogany veneer, created around 1900. Established since 1868 Rue Breguet, Guillaume Edmond E Lexcellent is a manufacturer furniture and retailer, medaille d'argent at the Universal Exhibition of 1889, and medaille d'or in 1900. He is renowned for the quality of his work and finds inspiration in the works of Riesener or Weisweiler as evidenced by our rare and elegant vitrine.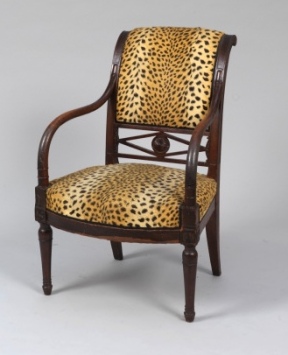 Attributed to Jacob Freres, the beautiful armchair (lot 348) is in mahogany and mahogany veneer. It can be dated around 1796. This rare seat was executed by the second generation of the greatest dynasty of French cabinetmaker who created seats from the end the period Louis XV to the Louis Philippe period. It is estimated 1200 to 1 500 Euros.
Over 360 lots will be sold with reasonable estimates. There are lots for everyone from the seventeenth to the twentieth century and for every budget. Feel free to come to the exhibition and indulge.
Cédric Henon, fine art specialist
Details:
Online catalogue: Here
Viewing: Wednesday 13 June from 10h30 to 18h30 and Thursday 14 June from 10h30 to 12h
Auction: Thursday 14 June 2012 at 14h
Where : Salle VV, 3 rue Rossini, Paris 9e
Feel free to contact our fine art specialists if you want to appraise your works of art. We also assist you in the selling of your works of art : consultancy.


Send this article to a friend