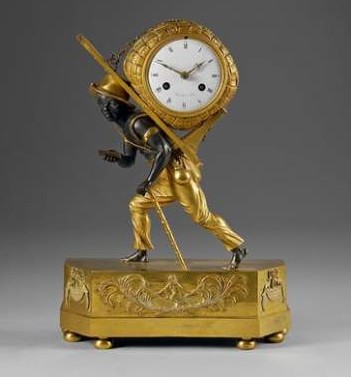 The 18th century was marked by a strong passion for the exotic. Until 1775-1780, the Far East was the inspiration source in decorative arts. But with the spread of "Lumieres" in particular with Jean-Jacques Rousseau and the publication of the novel "Paul et Virginie" by Bernardin de Saint Pierre, the decorators are turning to America and especially Africa. Let us remember that the only blacks seen in France were slaves and the myth of the bon savage appeared. We also emphasize that in 1793 slavery was abolished, Napoleon restored it some years later.

The first clock of its kind was delivered in 1784 for Marie Antoinette. It is interesting to note that this is not a man but a woman who is portayed, several copies are known. The movement is particularly complex because the time is displayed in the eyes of the Nubian when pulling his left earring. This mechanism is the work of two watchmakers King Ferret and Gaudron.
The box of the pendulum is entirely in ormolu and only the skin of the richly dressed and turbaned Nubian is in patinated bronze which enhances contrast.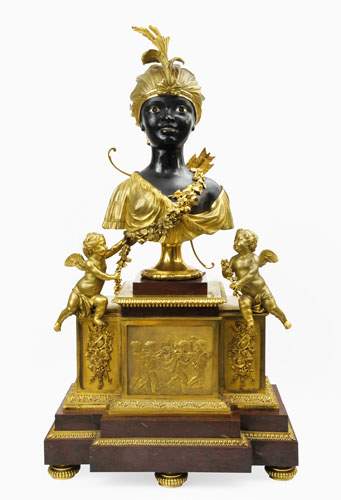 Exceptionnelle pendule en bronze très finement ciselé et doré à l'or mat et l'or brillant, et bronze patiné. Elle présente un buste de nubienne enturbanné, coiffé d'un panache de plumes rubanées. Elle porte sur le dos un carquois et un arc, soutenus par une guirlande de fleurs et feuillages. Les yeux, en automate, découvrent les heures et les minutes lorsque l'on tire sur la boucle d'oreille gauche (manquante). Base à ressaut sur laquelle repose deux amours. En plein, une frise dans le goût de Clodion représentant quatre putti tenant un brancard chargé de gibier symbolisant la chasse au faucon, sur les côtés des appliques à instruments de musique, fleurs et feuillages et attributs de berger. Latéralement des caducées à chapeau de Mercure ailé, dans des encadrements de couronnes de branches de laurier rubanées. Contre socle de marbre rouge griotte à frise de feuilles d'acanthe ou de palmettes. Petits pieds godronnés. Epoque Louis XVI. Courtesy of Delorme Collin du Bocage
The popularity of the pendule au bon negre last until circa 1825. But it is under the Directoire and Empire as the most beautiful models are executed.

The creation of a pendule au bon negre requires the participation of many artisans. First, the decorator who will design the model, then takes the bronze caster will melt the body of the pendulum. His work is critical because the quality of cast iron is an important element in the estimation of a pendulum. Then comes the gilder, he will give life to bronze. The ormolu and patinated bronze of a pendule au bon negre must be original.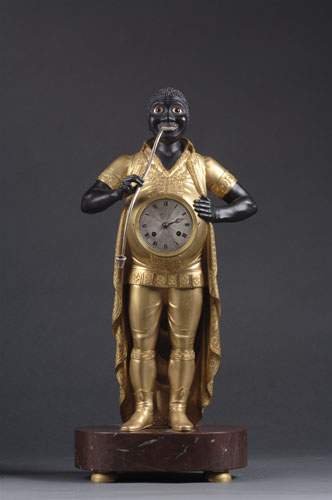 Grande pendule dite au " nègre fumeur " ou " Toussaint Louverture " en bronze à deux patines.
Yeux en verre et dents peintes au naturel. Socle ovale en marbre. Pieds patins. XIXe. Courtesy of Osenat.
We know more than thirty different models, some with an African working, carrying bundles, smoking a pipe or pushing a wheelbarrow, but it is especially the models depicting the myth of the noble savage which are sought after, notably, the clocks of "Paul and Virginia" in which the Nubians carry a palanquin, the where a couple is entwined. It should be emphasized that the couple can either be made ​​of African or Native American.

Among the most inventive bronzier were Pierre-Philippe Thomire and Jean-Simon Deverberie. Th last appears as having made ​​a specialty of this type of clock and he is responsible for many outstanding models. Bronzier having the property of their drawings and models, it is now possible to attribute some pendule au bon negre.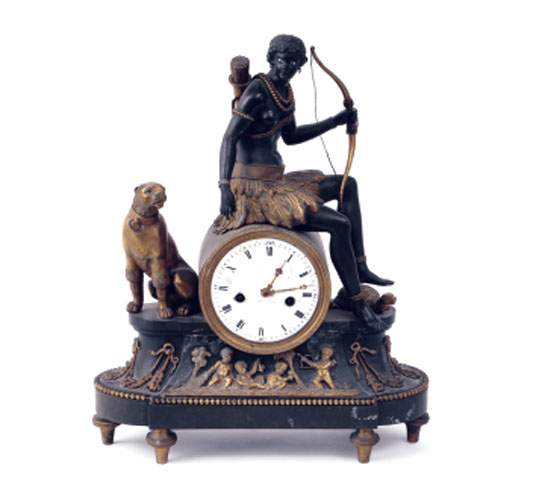 Belle pendule en bronze ciselé, doré ou patiné, le mouvement est surmonté d'une statuette symbolisant l'Afrique représentée par une nubienne tenant un arc vêtue d'un pagne à plumes, les yeux émaillés, à ses pieds une tortue et un fauve. Base en doucine ornée d'amours et guirlandes feuillagées, petits pieds toupies. Vers 1820. Courtesy of Delorme Collin du Bocage.
Sought by collectors and fans, pendule au bon negre are rare on the market and always create the surprise in the auction room both in Paris and Province. The prices achieve by the model the "noble savage" are usually higher than the model au bon negre. But, be careful, this is a highly selective market and only the clock in their original condition can create the surprise.
Cedric Henon, fine art specialist.
Illustration principale : Pendule au nègre portefaix figurant un porteur de coton en bronze doré et patiné, base rectangulaire à angles abattus ornée d'un singe ce balançant entre des palmes et des perroquets. Cadrant en émail signé Sauvage à Paris. D'après un dessin de Jean André REICHE, vers 1808.
Epoque Directoire. Courtesy of Couteau Begarie

Send this article to a friend