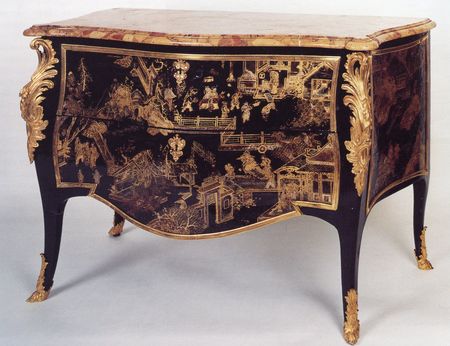 Poetic objects with bright light and reflections lacquer panels are used in the decorative arts from the eighteenth century to adorn precious furniture. Their opalescence and depth have poetic and meditative properties so fascinating for Europeans.
The use of lacquer in the decorative arts is ancestral as Chinese produce them since the third millennium BC. While Chinese lacquer panels reach their peak during the Ming Dynasty (1368-1644), the Japanese are pushing the technical perfection in the eighteenth century. Through trade with the Far East, they are imported in Europe by the Compagnie des Indes and known of European from the sixteenth century.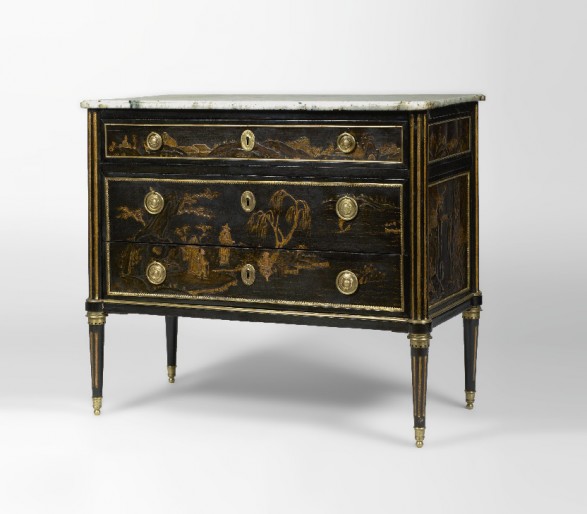 Chinese lacquer panels often have relief decorations with interior perspectives. There are many characters such as women or fishermen walking. The paint is thick and "alive" but often cracked on the surface. The background colors are red and black and decor is very bright and colorful (red, black, ocher, gold).
One of the most beautiful Chinese lacquer is called the Coromandel and produce during the reign of Emperor Qianlong.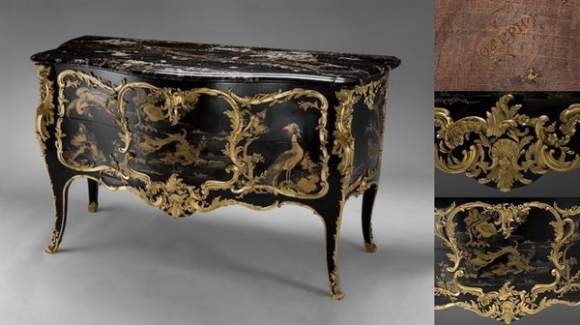 The technique of Japanese Lacquer grows considerably in the seventeenth century with lacquer panels of incomparable quality. Often black, layers of lacquer are applied very thinly and sprinkled with gold dust. This technique to the gold powder is also called aventurine lacquer, allowing a greater depth that leaves light shine through. Most often landscapes of mountains and lakes dotted with a few trees in relief and depth in which we can observe a small figure meditating are represented.
In Europe, it is not possible to reproduce the making of the Extreme oriental lacquers because our climate does not allow the paint to dry (raw material). This is why in the eighteenth century several artisans found a technique called "European varnish" (see main picture). For years the invention of this technique was attributed to the brothers Martin.
The European varnish has a very wide range of colors (50 colors) that allows the imitation of Extreme oriental lacquer panels and of porcelain and to create fanciful decorations. But this lacquer has a tendency to dull, yellow and crack over time instead of Chinese and Japanese lacquer panels that do not move.
These three types of lacquers, Chinese, Japanese and European are the main known and used in the eighteenth century. Lacquer panels were brought by sea for the Extreme East lacquers or made ​​in the Faubourg St Martin and the Faubourg St Denis in Paris for European varnish. They were delivered by marchands merciers in the largest cabinetmakers workshops so that they are applied to the surfaces of the furniture: RVLC, Carlin, Dubois, Garnier use them regularly. Many of this furniture are now preserved in museums just like the commode for Madame de Mailly by Matthieu Criaerd. Others are sold at auction such as a small bureau en pente with Japanese lacquers panels stamped Dubois sold for £400,000 by Mac-Arthur Kohn in Paris or a Louis XV Chinese lacquer commode sold £300,000 by Europauction.
Since in the eighteenth century, lacquer always raises so much interest from fans and collectors by the magnificence and preciousness that it confers on furniture.


Bérénice Cugnière
Copyright : illustration principale : commode en laque de Chine par Pierre Migeon; commode en laque de Chine : courtesy of Massol, commode en laque du Japon par Joseph : courtesy of Giafferi.

Send this article to a friend