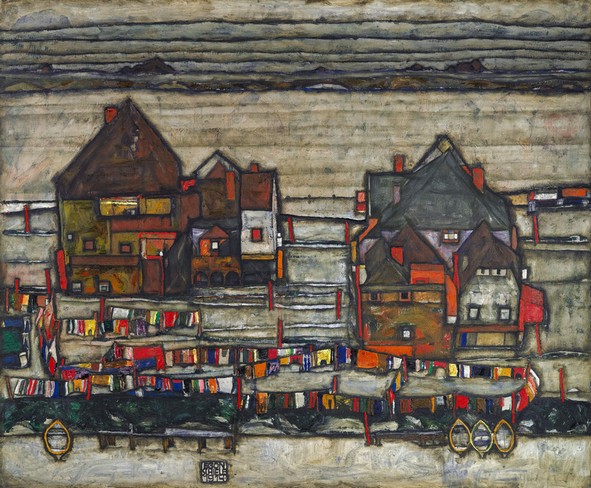 June 22, a painting by Austrian expressionist Egon Schiele was sold by Sotheby's London more than 27 million euros ($40 million), multiplying by almost two the previous record held by Schiele in 2006. An exceptional work of art by both the subject and by the evidence she left in history.
A Museum Piece
«Häuser mit bunter Wäsche (Vorstadt II) » was sold by the Leopold Museum in Vienna, which now houses the largest collection of works by the artist but also many treasures of the Viennese Art Nouveau or the Wiener Werkstätte.
Known for his portraits and nudes, Egon Schiele makes this landscape in 1914, when he is at the top of his art. A rarity in the short career of the artist, who died at age 28.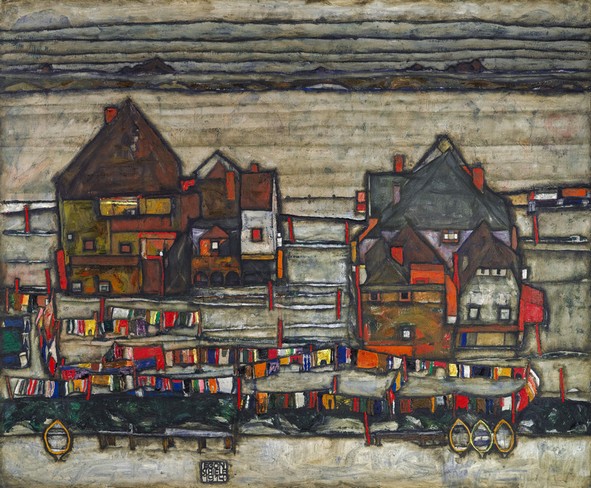 Sotheby's London – 22 June 2011 Impressionist & Modern ArtEvening Sale Egon Schiele Häuser mit bunter Wäsche, "Vorstadt" II, 1914 100.5 x 120.5cm, Courtesy of Sotheby's


To achieve its composition, Schiele would be inspired by the town of Krumau in South Bohemia. Native city of his mother, Krumau also hosts the artist and his muse in 1911 while fleeing from Vienna.
Rarity of the pattern, symbolic of the subject, but also "traceability" of the work that boasts a prestigious pedigree, since it was acquired in the year of its creation by the friend and patron of Schiele, Henrich Böhler. In 1952, the widow of the wealthy businessman sold it to Dr. Rudolph Leopold, founder of the eponymous museum.
Sold to buy another one
It is unusual for a museum to sell a work of art from its collections. In our case, the fact is even completely exceptional Häuser mit bunter Wäsche (Vorstadt II) was sold to allow the Leopold Museum to acquire an even more "exceptional" painting by the same artist.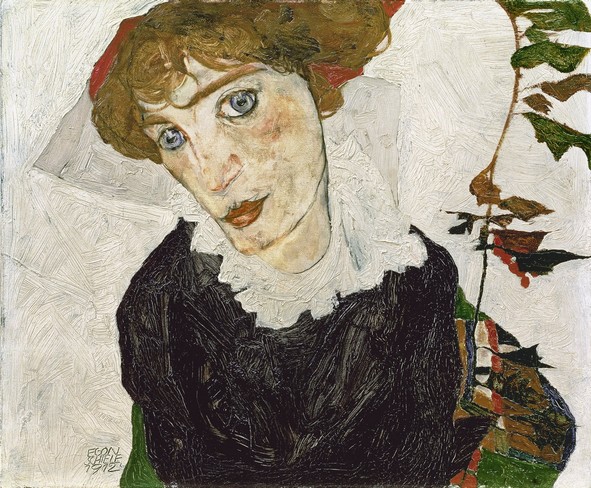 This painting represents Wally mistress of the artist and presents an important historical interest as well. The portrait of Wally would form a pair with a Schiele self-portrait also own by the museum.
Acquired in 1954 by Dr. Rudolph Leopold, this painting was confiscated during the Nazi occupation from Lea Bondi Jaray to a Jewish art dealer based in Vienna before she left for London in 1938.
In 1997, while on exhibition in New York the portrait was seized by U.S. authorities at the request of the heirs of the gallery that they be returned. Ensued over twelve years of legal battle after which the Leopold Museum agreed last year to pay them 19 million dollars to get it back.
This portrait of Wally was the first case in Austria that revealed the theft of Jewish property by the Nazis. In 1998, it led to the passing of a law for the "restitution of works of art" looted by the Nazis.
Last Wednesday, this rare landscape sold on the phone to an anonymous bidder…

Send this article to a friend