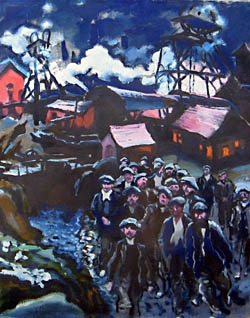 On September 28 will be sold in London by Chiswick Auctions a picture by Ludwig Meidner (1884-1966) who is one of the greatest German expressionist painters.
Have a look on this discovery that should attract many important bid.

Notre huile sur toile, intitulée « Les Mineurs » et mesurant 75 x 60 cm, est monogrammée en bas à gauche « L M » et datée 1912. Elle est estimée autour de 1 300 000 euros et représente la colère croissante qui monte parmi les mineurs de charbon de Prusse Orientale et de Pologne au printemps et à l'été 1912. Face à quoi le gouvernement allemand avait répondu que les grévistes seraient « réprimés d'une main de fer ». Le tableau date certainement de novembre 1912 qui est un moment clé dans l'œuvre de Meidner en effet, il peint à partir de cette date une série de tableau connus sous le nom de « paysages apocalyptiques » dans laquelle on devine les horreurs futures de la Grande Guerre.

Ludwig Meidner passa son enfance dans les zones minières de Silésie et les luttes sociales des ouvriers sont pour lui naturellement une source d'inspiration. Il semble d'ailleurs que l'artiste se soit représenté lui-même au milieu des grévistes, l'homme sur la gauche détaché du groupe.

Artiste Juif, il est déclaré subversif et son travail est exposé à la tristement célèbre « exposition d'art dégénéré » en 1937 à Munich. Meidner et son épouse fuient l'Allemagne nazie pour l'Angleterre pendant l'été 1939 avec l'aide de l'artiste Augustus John. Meidner est interné comme étranger ennemi sur l'île de Man et demeure largement méconnu en Angleterre. Il rentre en Allemagne en 1953.
Notre toile fait très certainement partie des 80 œuvres que Meidner emporta avec lui lors de sa fuite d'Allemagne.

L'authentification de notre tableau a fait l'objet d'un très important travail de recherche scientifique, en effet les œuvres de Meidner sont rares et particulièrement recherchées.

Afin de pouvoir l'authentifier, la maison de vente aux enchères a déployé d'importants moyens financiers (6000 €) rarement mis en œuvre lors d'une expertise. Une datation au carbone 14 et une analyse des pigments utilisés par l'artiste a permis de dater le tableau des années 1910 ce qui permettait d'éliminer la possibilité d'un faux récent.
Un graphologue s'est penché sur les inscriptions manuscrites au dos du châssis de la toile et les attribue à notre peintre allemand.
Il restait un élément important, au dos de la toile, figure un portrait inachevé et particulièrement difficile à lire. L'analyse au rayon X a démontré qu'il s'agissait en fait d'un autoportrait de l'artiste qui peut être comparé à un tableau de Meidner « Visage Nocturne » vendu chez Sotheby's en 2007 pour 2 millions d'euros. Il faut souligner que notre artiste réalisa de nombreux autoportraits et qu'il n'est pas rare qu'un peintre réutilise une de ses toiles.
Les spécialistes datent cet autoportrait vers 1908 ce qui correspond à l'époque où Meidner rentre en Allemagne, après avoir étudié à Paris à l'Académie Julien et Cormon, pour ouvrir son propre atelier à Berlin.

Notre tableau devrait susciter l'intérêt de nombreux musées et institutions ainsi que de collectionneurs à la recherche d'œuvres de qualité et inconnues du marché.

Cedric Henon, fine art specialist.

Cedric Henon and Laurent Hache expertise your bronze, furniture, ceramics, seat or sculpture, for sale, auction, insurance or inventory. You can contact us by phone +44 796 722 3146 or +33 1 40 26 05 46.




Send this article to a friend