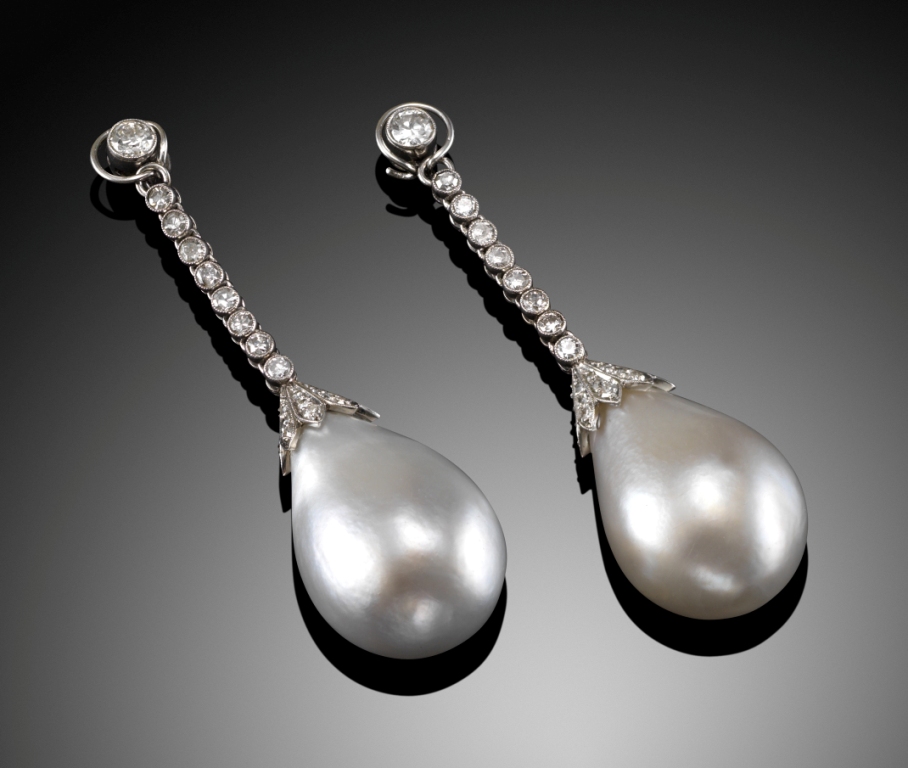 April 26, the auctioneer Woolley and Wallis in Salisbury, United Kingdom, sold a pair of natural pearl and diamond earrings for £ 1.4 million
Let's look at this jewel and its history.
Expertise
The pair of earrings consigned by a private seller, unnamed, was sent for expertise to the Schweizerische Stiftung für Edelstein-Forschung, Swiss Gemological Institute.

The expert's report confirms that these were not natural pearls, weighing respectively 138.03 and 132.94 grains. For information, one carat is equal to 4 grains. Thus, these pearls are the eighth largest known natural pearls in the world. The institute also emphasized their beautiful pear shape and color gradient from white pink to blue.
The institute also suggested a provenance.
The provenance
This jewel was certainly offered by the crown prince of Romania, the future King Carol I, to his mistress Magda Elena Lupescu (c.1895-1977). In 1926 he renounced the throne but in 1930 returned to start a 10-year reign marked by his abdication in favor of his son in 1940.
He then went into exile in Portugal with his mistress whom he married in 1947.

The pair of earrings was bequeathed to and British lady who gave them to his nephews.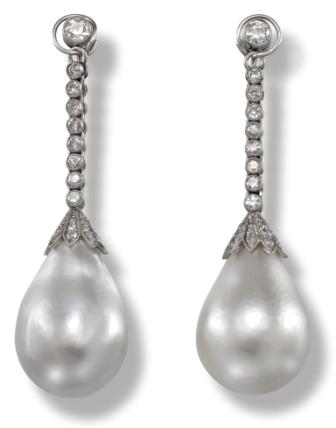 The discovery
It seems that the jewel was "forgotten" in a drawer for thirty years and it is during an inventory by the auctioneer that it was rediscovered to the last minute, to be finally estimated £80,000 to £120,000 to the surprise of the couple.
The auction
Bids started at £70 000 to reach within less than a minute £500 000 and then jumped to £1.1 million, two buyers only remained in the competition, a Swiss dealer and a private amateur. It is the latter that the pearls were finally awarded on a bid of £1.4 million.

The nationality of the buyer was not disclosed but he is probably from the Gulf or India.
The analysis of this auction and the results of auctions of jewelry in the past 12 months show that the natural pearl market is particularly dynamic. The price of a grain has doubled. It is interesting to note that if Chinese are among the largest producers of natural pearls, they are not yet active in this market.

Whether in gold, or pearls set with precious stones, jewels are popular at auctions today. It's time to sell.



Cedric Henon, Continental Furniture specialist, valuation, appraisal, auction.
Feel free to contact our fine art specialists if you want to appraise your works of art. We also assist you in the selling of your works of art : consultancy.


Credit photo: Woolley & Wallis

Send this article to a friend