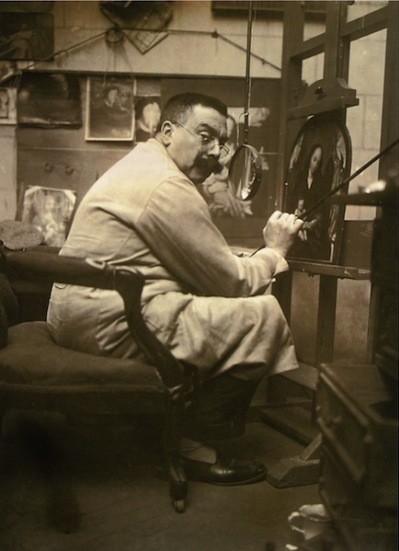 Joseph-Marie, dit Jef van der Veken (1872-1964) est un peintre anversois renommé pour avoir restauré avec un soin inégalable des peintures de Primitifs flamands. Copiste sans pareil, l'apogée de sa carrière de restaurateur est sans aucun doute la copie des « Juges intègres » de l'Agneau Mystique de Jan van Eyck, réalisée en 1945.
Very early his special skills to make copies of old paintings allow him to turn to a career imitator at the end of his academic training in Antwerp.

Production of active pastiches aroused suspicion of an association of experts and curators, founded in 1898 in Germany, through confidential communications counterfeiters assets designated time.
Jef van der Veken decided to change strategy and to develop a new concept: the hyper-restore partial or false. Thus, rather than creating entirely false, forger borrows a surer way by creating false on the basis of an old painting. He then borrows visual elements to the great masters - a brocade panel from Memling, the diadem of flowers of Dirk Bouts, the hands of Jan van Eyck - he assembles them to his taste for form its own directory.

He retains the old parts but restores much adds iconographic details, sometimes painted over the composition, so that almost all of the painting is of his hand. Attentive to the old look of the table, he does not forget the cracks - synonyms elapsed time - he draws, he scratches, he paints, he causes. He concluded by asking a dark brown varnish over the entire surface of the table.
In the early 1920s, Joseph van der Veken joins Emile Renders. Collector, banker, art dealer, there are many facets has been put on this character controversy. With restorations Jef van der Veken on old paintings of poor quality or damaged, Emile Renders has been an important collection whose fame has attracted the envy of Hermann Goering.
In 1927, Emile Renders is praised when he exhibits his collection at Burlington House in London. But soon a scandal when Joseph van der Veken to admit expert Ghent Hulin de Loo, having achieved the Mystical Marriage of Saint Catherine exposed. This revelation causes controversy immediate withdrawal of the table display. Nevertheless, Emile Renders and Jef van der Veken remain discreet about their collaboration.
The revelations were made during the exhibition Fake / not fake: restorations, reconstructions, the falsifications Groeningemuseum Bruges in 2004, have resulted to the Van der Veken case.
Beyond the scandal of the double facet of Jef van der Veken, this exhibition has had an impact in the history of the restoration. This case related to the universal question of the restoration of old paintings, presents itself as a lesson for restaurateurs, not to cross limits in order to avoid a false, intentionally or not.
It must be remembered that these hyper-restoration we receive today are unfortunate but justifiable by historical context was that the limits should not be exceeded were not as well defined at present.
The boundaries crossed by Van der Veken are defensible under an authoritative restore of the time. However, the limits of his personal ethics are questionable. On the one hand for being associated with a character as controversial Emile Renders, and secondly to have consented to its restored tables are presented as authentic paintings Flemish Primitives.
Who Emile Renders or Jef van der Veken led the other in this business, is still a mystery. Still, Emile Renders has used the genius, skill and knowledge of his restaurant to be an important collection of paintings and admired.
Although it has never been publicly shamed, fraudulent activities Jef van der Veken were known to specialists. However, this has never prevented the exercise of official restorer of the Royal Museums of Fine Arts of Brussels.
Tifenn JANKOVSKI
Old Masters specialist
Credits photo :

1 - Photographie de Joseph Van der Veken, © KIK-IRPA,Bruxelles.

2 - Copie des Juges intègres par Jef van der Veken, 145 x 51 cm, 1945, Cathédrale de Saint-Bavon, Gand,
Belgique. © http://www.wga.hu


Feel free to contact our fine art specialists if you want to appraise your works of art. We also assist you in the selling of your works of art : consultancy.


Send this article to a friend