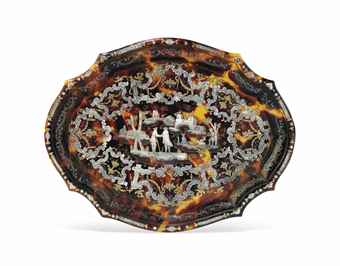 Sold just over 200,000 Euros at Artcurial last October, another sold for £55,000 at Christie's London last week, gold-inlaid are sought after by amateurs and are the pride of the largest collections in particular Rothschild one.
Techniques
Called gold-inlaid, ivory or tortoiseshell objects with a decor consisting of gold or silver inlays typically associated with mother of pearl.
To achieve this overlay, the artisan draws on its tortoiseshell the pattern that he would like then after cut or punctured of space required, as for the marquetry, it heats the media tortoiseshell or ivory then expands to deposit his gold or silver thread which by cooling will imprison it permanently.
The main decoration, often inspired by prints of mythological scenes, is performed in mother of pearl engraved, gold-inlaid form for its part arabesques, friezes or grids.
It is interesting to note the similarity with Boulle marquetry combining tortoiseshell and brass or copper.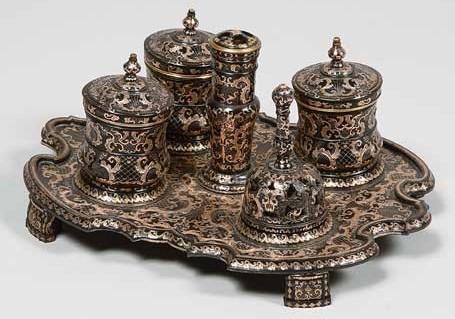 © SVV MASSOL
Where
The technique of gold-inlaid appears at the end of the sixteenth century in Italy, in Naples and Torino and spread throughout Europe, particularly in France, England on an ivory base and not tortoiseshell and Germany.
It reached its peak during the late seventeenth century and throughout the eighteenth century.
Objects in gold-inlaid created in Naples and Torino now have the favor of the market in particular with regard to the richness and quality of the decorations.
Among the many workshops that were born in these two cities, several names have survived, Gennaro and Giuseppe Sarao, Antonio de Laurentis, Nicolas Nicolas Turris or Starace.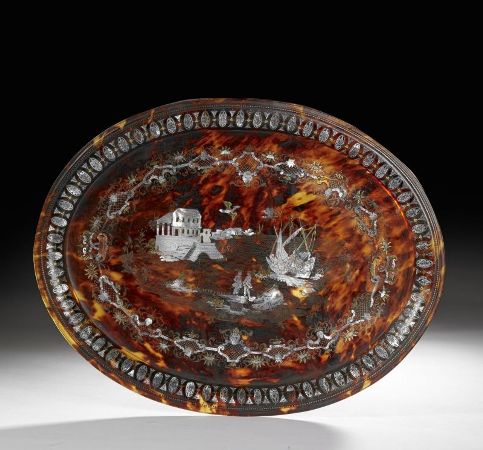 ©SVV Artcurial
Type of production
Works of art using the technique of gold-inlaid appear rarely on the market which can explain their price.
You can find at auction trays, knobs cane, caskets, cases and boxes and inkwells. The latter are the most sought after and consist of a tray on which rests the bell, inkstand several jars all decorated with gold-inlaid.
Exceptional objects since their creation, the gold-inlaid, because of their rarity and the quality of their decoration, both technical and decorative, always fetch for beyond their estimate as highlighted by these two recent results.
Main illustration: © Christie's

Send this article to a friend