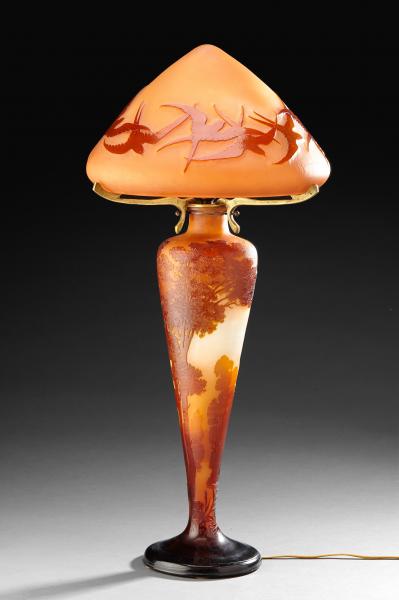 From 86 to 16 000 euros for a Gallé lamp, what a gap ! Our fine arts specialists try to give you some advice on what to look at before to purchase some Gallé work of art.

On distingue trois types de luminaire signés du nom du maître de l'Art Nouveau : Ceux créés de son vivant (1900-1904), ceux édités par sa veuve et son gendre (1905-1931), et les multiples contrefaçons et faux produits depuis 1935.

Flore éclairée…

Emile Gallé (Nancy, 1846-1904) conçoit des lampes, appliques et suspensions typiques de l'Art Nouveau. Les formes et décors sont inspirés par la Nature. Le verre coloré et gravé devient fleur. Le fer forgé branche. Leurs noms : la lampe Les Coprins, la girandole Coloquintes, la lampe aux ombelles.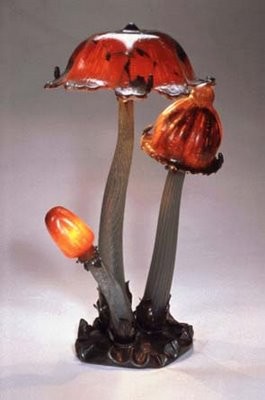 Gallé, Emile (1846-1904), Lampe Les Coprins, chef d'oeuvre de l'artiste réalisé c.1902, collection du musée de l'école de Nancy. Verre triple et double soufflé et modelé à chaud. Son piètement est en fer forgé. Des copies sont réalisées par sa veuve et son gendre. Des contrefaçons et faux sont connus.

Avec Daum Frères et Majorelle, Gallé est l'un des premiers à travailler sur les éclairages électriques.
Productions de fin de vie, les lampes en verre multicouche, réalisées entre 1900 et 1904, sous le contrôle de l'artiste sont rares. Peu sont aujourd'hui proposées à la vente.

Décors inspirés…

A sa disparition et jusqu'en 1935, sa veuve (jusqu'en 1914) et son gendre Paul Perdrizet, commercialisent une gamme de lampes inspirée par le maître. Les lignes se durcissent. Le fer forgé et le bois disparaissent. La qualité baisse. De beaux modèles naissent malgré tout.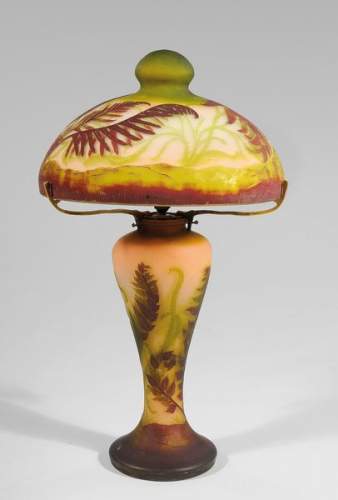 Lampe de table champignon signée "Gallé". Monture en bronze doré. La lampe a très certainement été réalisée après la disparition de l'artiste, entre 1905 et 1920.
Vendue 18 588 € le 11 mars 2009, Etude Aguttes, Drouot.

Les productions industrielles de cette seconde période peuvent être très courantes.
Ce sont elles qui seront les plus copiées jusqu'à nos jours.

Imitations lointaines…

Au cours des années 1960-1970, l'Art Nouveau redevient à la mode. Des ateliers installés en Roumanie puis en Chine imitent les modèles créés par les héritiers de Gallé.
La qualité ne peut être en aucun cas comparée aux œuvres du président de l'Ecole de Nancy.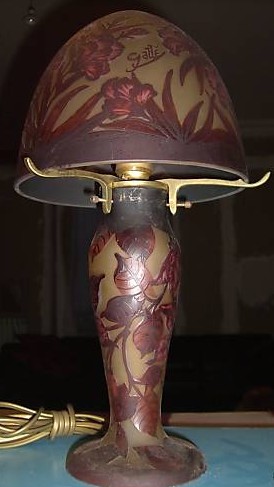 Lampe portant la signature "Gallé". Copie dans le style du maître de l'Art Nouveau, président de l'école de Nancy. Vendue 86,21 € sur Ebay France, le 7 avril dernier.

Le verre s'épaissit. Le décor perd de sa fluidité. Les formes sont souvent lointaines et les couleurs trop vives. Parfois peint et non gravé, le motif est devenu triste, la Nature peu féconde.


Aujourd'hui, plus de 80% des lampes en verre coloré signées « Gallé » présentées à la vente ont été réalisées après la disparition de l'artiste. Pour les acheteurs, la prudence s'impose.


Illustration principale : SVV Aguttes


Feel free to contact our fine art specialists if you want to appraise your works of art. We also assist you in the selling of your works of art : consultancy.






Send this article to a friend