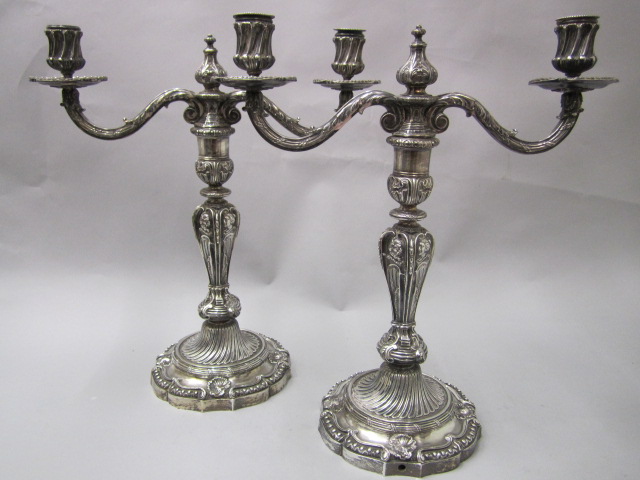 Friday, February 11, Art Valorem will auction the collection of Mrs. R. This sale includes a large collection of silverware of the 18, 19 and 20th centuries. We draw your attention to estimates that are particularly reasonable. Lets have a look on some lots that we spoted through the catalogue.

The sale includes several solid silver cover dishes which are the lots 3, 43 (a pair), and 59. The estimates are spread from €300 to €1000. We can point out the lot 3 which is a plain silver covered vegetable dish on pedestal, made by the silversmith Pierre Valliere in Paris in 1783. The cover and body are engraved with coats of arms. It weights 1284g and is estimated €800 to €1000. Let's remind that for the ancient pieces, the weight of the silver is not one of the principal elements of the estimate, contrary to a majority of the works stamped with the Minerva.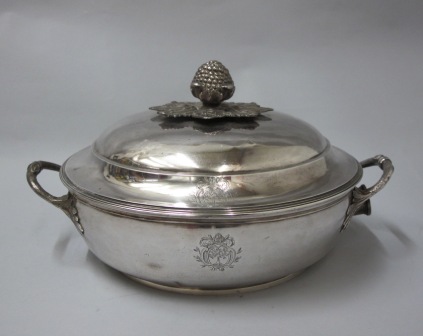 Several pots are on the list as well and particularly a silver tripod chocolate pot by Pierre-Antoine Famechon in Paris between 1784 and 1789, estimated between €1400 and €1600. The chocolate pot is different from the other jugs with its removable seed lid to allow the use of a whisk stick. Among the other jugs: the lot 19, marked with the "coq" and the number 35, another chocolate pot from the end of the 19th century ; the 49, a coffee pot by Boin-Taburet and finally the lots 51, 54, 80 and 83.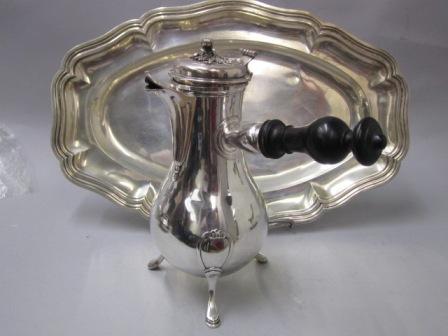 We noticed ancient covered cups too, one is from the revolutionary era and two others marked with "vieillard", which means that they were made between 1819 and 1838. The lot 20 is to be distinguished especially: a silver two-handled covered cup on four paws. The cup rests on three dolphins and depicts openwork of putti driving a chariot pulled by butterflies. It is adorned with two swan-shaped handles and a bloomed flower grasp on foliage. With its interior, it is estimated at €600 to €800.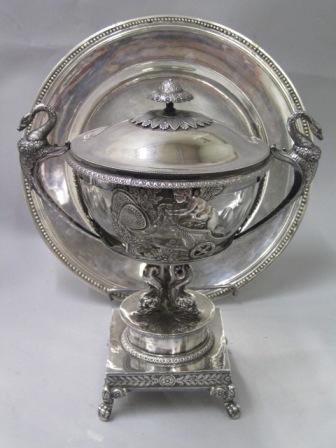 To finish, we will talk about the silver lights, which are really appreciated. The auction includes a pair of candelabre (lot 50), a pair of candlesticks (lot 36) and a torch (lot 84). Let's pay attention on the lot 50, a work by one of the most important silversmiths of the XXth century: Puiforcat. It is a pair of two-branch candelabre richly engraved with braces, ovum, flutes and ribboned fillets and profiles. They weight 2,824 kg and are 41 cm high. They are estimated from €2000 to €3500 for the pair.
The solid silver section involves 84 lots including lots of cutlery and a canteen. We invite you to consult the catalogue by following the link : catalogue.
More than ever, silverware appears as a safe value and it is definitely the good moment to invest in silver pieces.
Please feel free to contact our experts if you have silverware to be estimated or sold. We will be happy to assist and advise you.
Plus que jamais, l'argent apparaît comme une valeur refuge c'est le moment d'acheter de l'argenterie.
Cedric Henon
Fine Art specialist.
Infos pratiques :
SVV : Art Valorem.
Vente : vendredi 11 février 2011 à 14h
Où : Salle V.V. Quartier Drouot, 3 rue Rossini, Paris 09.
Exposition : jeudi 10 février de 10h30 à 18h et vendredi 11 février de 10h30 à 12h.
If you want to have a better understanding of the French silver mark, follow the link

Send this article to a friend