Elegant table objects, the coolers were used to keep drinks cold until the middle of the nineteenth century.
Presentation of this ancestor of champagne bucket.
"The poor have ice in winter and the rich have in summer." This old saying illustrates beautifully the fact that from antiquity to the mid-nineteenth century, the very cold dishes were strictly reserved for the powerful kingdom. Indeed, before the advent of refrigeration in the nineteenth century, natural ice collected in winter, then stored in small sealed well known as coolers, almost exclusively found in the castles. They can still be seen in the parks of Versailles or Chantilly.



During the summer, the ice was recovered and is available near the dining table, in coolers, large bowls in which were placed the bottles.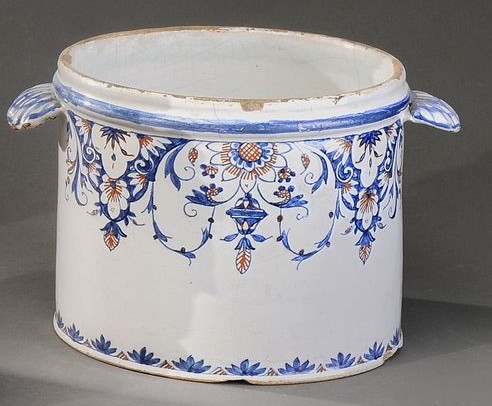 Entertaining
Made of metal or earthenware, the cooler is usually oval or circular. To be easily moved, it has side handles or rings. Today the most famous bottle cooler is the champagne bucket.
In the eighteenth century, the host took care of his guest, the wine before being served is refresh, as well as the glasses serving. To do so, he uses a cooler that has the peculiarity of having notches in its upper edge in order to wedge the legs of the glasses.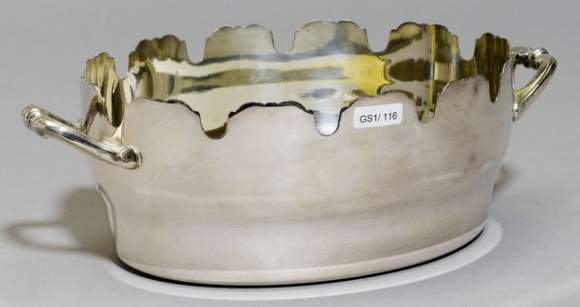 By extension, the word "cooler» includes furniture; small table in vogue at the time of the Pompadour or Marie Antoinette. The table includes in its upper tray cavities for placing the metal buckets. Joseph Canabas, famous cabinetmaker of Louis XVI was specialized in "table rafraichissoir". The Louvre has a pair of mahogany cooler tables with marble top.
From cold to hot
From 10€ to 100,000€, the price range is very wide. Most of the coolers are sold between 50€ and 500€. The value depends on the rarity of the form or setting of the model.
Age is not an essential matter here. A pair of silver and bronze coolers and displays silver dating from the nineteenth century were sold, for example €85,000 in 2010.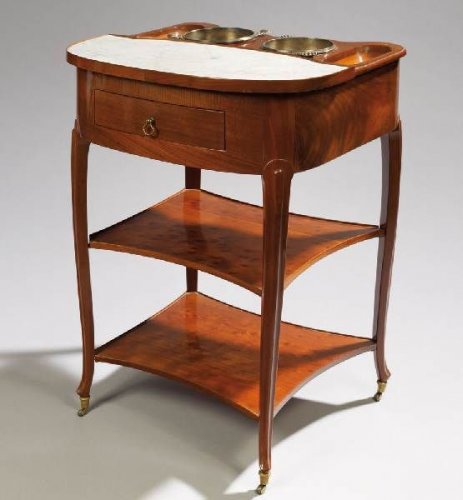 The most sought after tables have cabriole legs and are still in the transition style while those Louis XVI are more difficult to sell today.
Illustrations :
1 Détail du tableau intitulé : La tabagie ou Le Corps de Garde, attribué aux frères Le Nain, 1643, Musée du Louvre.
2 Rafraîchissoir à bouteille, faïence de Sinceny, XVIIIe siècle, courtesy of De Baecque et Associés, Lyon.
3 Rafraîchissoir à verres en métal argenté, courtesy of Koller, Genève.
4 Table rafraîchissoir en acajou massif en partie du XVIIIe siècle, courtesy of Aguttes.

Send this article to a friend