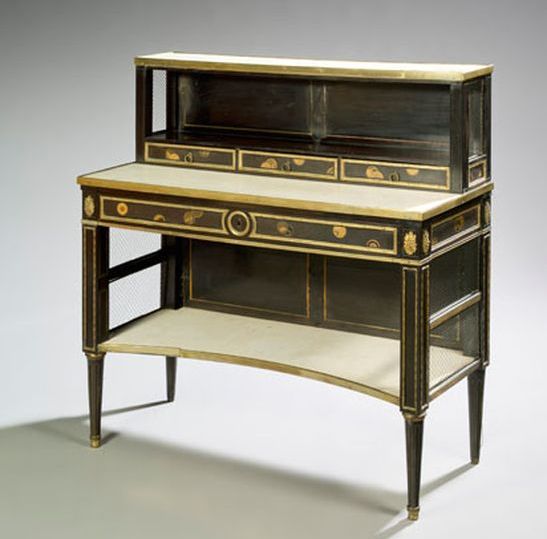 All the team of Authenticité joins me to wish you a great 2014. This week, we take an interest to the bonheur du jour, feminine piece of furniture in essence. It appears in 1760 in the topology of French furniture and is characterized by its refined and elegant lines.
Description
The bonheur du jour looks like a table topped with a step with opening doors or drawers.
The bottom forming table is:
-either folding, that is to say, the table top unfolds into writing desk, open tray is covered with leather to allow writing.
-either frieze drawer, the drawer once opened discovers a clipboard with the side compartments for storing ink, sand and feathers. Generally the writing surface is sliding or hinged to allow the user to store his letters.
The bonheur du jour generally rests on four feet which can be joined by a stretcher. The latter, on the prestigious models, has the front cut to put the legs.
Living room furniture by definition, the bonheur du jour is usually small and is intended to be placed at the centre of the room, therefore, it is decorated on all sides in parquetry or marquetry of exotic wood, kingwood, amaranth, mahogany, ebony, lacquer panels from China or Japan.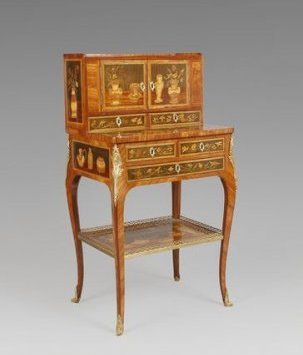 Style
The first models, which appear at the end of the reign of Louis XV, are already heavily influenced by the Louis XVI style. We call this style the transition style mix of styles Louis XV and Louis XVI. First, adopts sinuous lines rock especially in the feet while the box of the table and the step have straight lines characteristic of the Louis XVI style.
From the 1780s, the bonheur du jour is completely in the Louis XVI style and its legs are join by a stretcher.
During the revolution and the nineteenth century, the bonheur du jour remains a highly sought furniture and the ornamentation adopt the different styles either the Empire or Louis Philippe for example.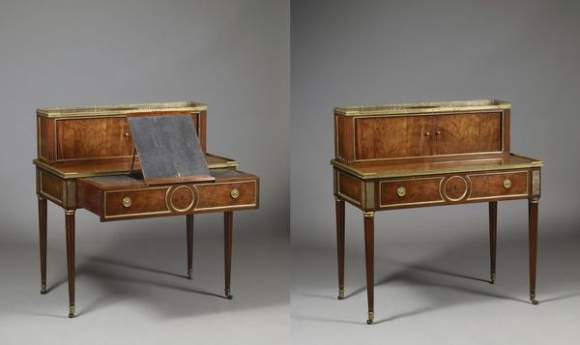 Price
The bonheur du jour is a particularly sought after furniture especially when dates from the eighteenth century. This type of furniture has inspired many eighteenth century cabinetmakers who produced models of great refinement in particular, Kemp, Topino, Dester, RVLC, Carlin or Weisweiler.
The price of a of a bonheur du jour depends on several criteria:
- Shape.
- Decor, marquetry, parquetry.
- Ornamentation of bronze.
and as with all antique furniture, state of conservation and restoration.
Safe bet in sales results, the bonheur du jour remains a must with collectors of antiques. Its small size, its elegance and refinement make it a piece of furniture that fits into any interior.
Cédric henon
Illustrations:
-Main, © SVV Aguttes
-1), SVV © Ader
-2) SVV © Cornette de Saint Cyr

Send this article to a friend