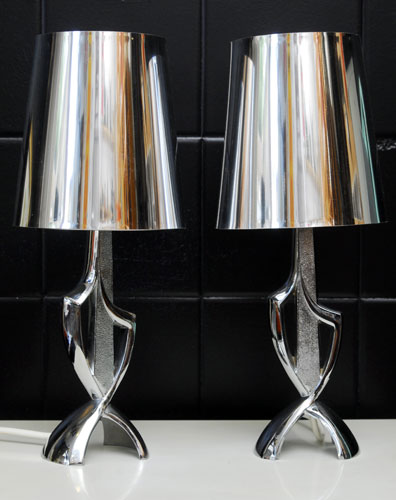 Chez Cax gallery was a former butchery and became a retro flea market, in Angouleme, where you can find very atypical items and furniture, from the 20th century and especially from the 50's to the 70's.


Its owner, Julien Chamoux, selects very decorative objects, steeped in history from the famous Formica table to the educational posters from the 60's, through coloured design chairs. We interviewed this Vintage lover.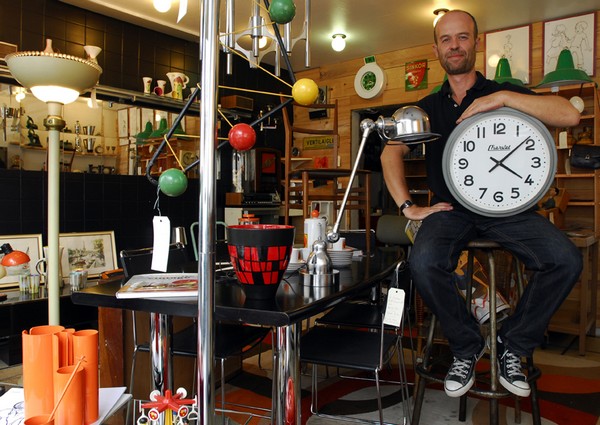 Authenticité: What were the reasons why you decided to create a vintage flea market?
Julien Chamoux: Originally, I am a photographer and since several years I work in antiques field. Step by step, I discovered this world and I became a bargain-hunter. As I was accumulating too many objects I started to sell them, and one thing leading to another I decided to be a dealer. I chose vintage style because it corresponds to my taste, this era is the one that I like the most and the one I wanted to work with.
A.: Why does this trend attract more and more amateurs ?
J. C.: To me, the main reason is the renewal of generations that sparks off a change in interests. Nowadays, people like more toys from the 60's that correspond to their childhood, than porcelain dolls for example. For the furniture, the logic is the same.
A.: What can we buy in your flea market for €15, €150 or €1,500 ?
J. C.: For €12, there are dinnerware accessories, oil and vinegar bottles from the 70's for example, with their flash colours and typical ornaments.
If you increase a little bit you budget, with €150 you can buy a good quality industrial or design light. There are also American office chairs Chromcraft, made of imitation leather and on wheels. And I have an amusing hairdryer on a cast-iron leg from the 50-60's.
For €1,500, you can have signed pieces, by Pierre Paulin or Olivier Mourgue for example. I also sell Scandinavian enfilade made of solid teak, for €950.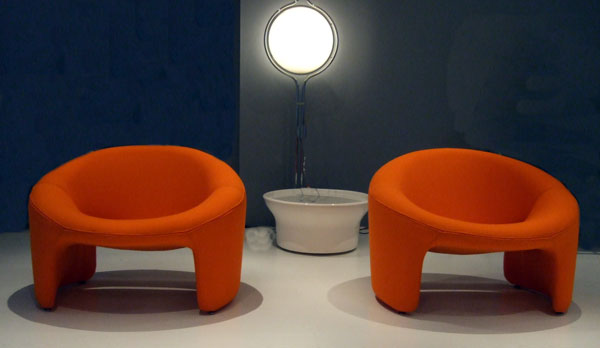 A.: Do you think that this type of object is going to go up in value ?
J. C.: The thing with the trends is that we never know what the future is made of. People have said that it wouldn't last and yet… Vintage style was properly represented and popularised so pieces are becoming rarer and I think that it won't stop in a hurry. Design still has a future. It will probably evolve, for example people are beginning to collect furniture from the 80's because they think it will become more valuable. But there are nuances, the 70's style peaked and is probably about to decrease because of its flashy colours. People taste is turning to the 50's which are more sober: solid wood and beautiful materials.
A.: Who are the most successful artists/designers ?
J. C.: The best-seller artists are the most famous, the most seen ones. Amateurs like to recognize their work without being experts. Objects that haven't been seen in decoration magazines are much less considered. Tulip chairs by Knoll are very well-known so very fashionable.
A.: How do you stock up, in order to provide good quality items to your customers ?
J. C.: I use every means! From traditional antiquing in flea markets and garage sales to trade between colleagues (which is very common in this field). Private individuals sometimes hunt for professionals and bring their discoveries directly to the gallery. I occasionally buy at auction but it takes too much time.



A.: Could you advise us books to provide information about the subject ?
J. C.: Taschen makes very good books, and they are affordable. There is an edition of three works about decorative arts from the 50's, 60's and the 70's which is very reliable. It contains documentary pictures showing interiors from the period. It gives, beyond the item itself, an idea of the decoration of the epoch. There are books like 1000 chairs as well that are interesting.
To finish, it can be fun to get decoration magazines from these years, old issues of Art et Décoration that you can hunt in the flea markets.
Charlotte Meniaud, 20th century junior specialist

To learn more:
Meet Julien Chamoux at his Gallery Chez Cax 152 rue Montmoreau 16000 Angouleme, or on his website www.chezcax.com



Definition of "vintage":
The term "vintage" is originally used to describe a year spirit, and then to designate collection cars. Then its definition widens to fashion and furniture fields. Concerning the latter, vintage corresponds to retro pieces, often in the design style and made between post-war and the 80's.

Send this article to a friend