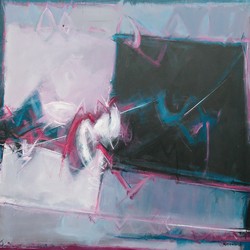 Born under the Italian heavens where the words are music where gestures are theatre and where colours are always lively, Aldo, graduate of the Fine arts School of Fine Arts) of Naples settles down in Paris in 1961.
Place du Tertre, he outlines, profiles the streets, the Seine, the bridges, and Montmartre of course... In parallel, he works on the paint itself and gives relief to its abstract expression. He is already a personality; the "wop".
Cruciform markings and sensual colours, almost calligraphic signs and line barbed wires defend him from the hostile world.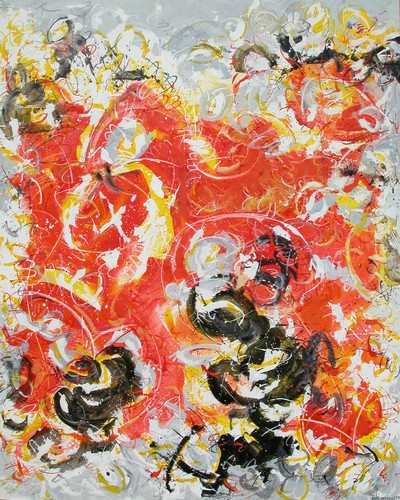 The life in Paris agrees very well with its senior form to the Italian, but it is the very favourite, he takes refuge with Normandy.
Aldo Paolucci's paintings take then sound flies away towards a long journey between war and peace, between fights and celebrations of the presents of the life.
He chooses, selects his exhibitions, the destinations of his works: the United States, Germany, and Japan... In France it is the FNAC or the biggest institutions which buy. He refuses to sell in auction and prefers the isolation, snuggled up in the heart of the bocage.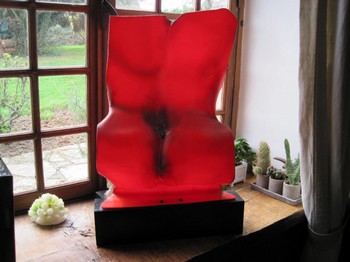 Sometimes shy, sometimes dirty his nudes say a lot about him on his deep sensibility. His sculpture is soft, transparent, and unique. His paint bursts, sprung such a delivery.
Aldo puts it all his body, he sends the best and that is obvious.
You at good distance should stop and look.
Giulia Paolucci, artist's daughter.
About Aldo Paolucci:
Aldo Paolucci is a Painter - Plastics technician born in 1941 to Campobasso ( Molise-Italia).
He begins his career by realizing his first personal exhibition in 1960 to Campobasso.
Having a degree from the school of Art and the Academy of Arts of Naples, he settles down in Paris in 1961.
In 1983 the National Art Collection of Contemporary Art bought some of his works.
He receives a many prizes throughout his life among which that of Verona's " Mostra Internazionale ", Grand Prix of France Arts Plastique de la Conciergerie in Paris, Grand Prix Trocadéro...
His references in guides are numerous; international directory of the Arts Plastique of the UNESCO ( 1980 ), the history of the Autumn show (1993 ), the National directory of the Fine arts " Lapery (School of Fine Arts " Lapery) " (1995 ) or the International Who's Who of the Arts ( 1996 ).
Recognized in the world for his representational works, he is quickly approved by a large majority as Master of the lyric abstraction by the media.
In the 80s, he retired and died in 202 in Normandy.
To know more about him: www.aldopaolucci.fr

Send this article to a friend