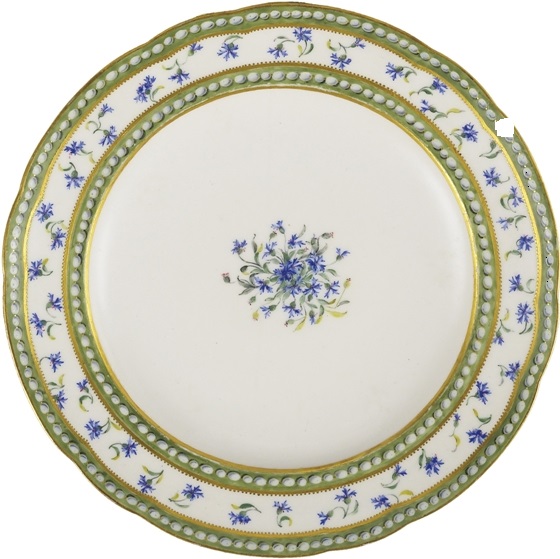 Authenticité, fine art specialists specialized in free appraisal, valuation and expertise, sold by private treaty sale an exceptional Sevres plate from the Queen Marie-Antoinette.
Commandé en juillet 1781 et probablement exécuté sur des échantillons fournis par Michel Gabriel Commelin le 7 août suivant, le service à perles et barbeaux est livré à la Reine le 2 janvier 1782, lors de l'exposition à Versailles.
Il est mentionné dans les archives de la manufacture de Sèvres sous les dénominations de Service de la Reine, Service à Perles pour la Reine, Service de la Reine à perle et Bordure merde d'oie ou simplement Service perles et barbeaux.

Il comprenait 295 pièces, pour un montant de 12.420 livres, incluant 96 assiettes et 24 à potage valant 30 livres chacune, 24 seaux à verre à 48 livres chaque et 24 pots à jus à 18 livres chaque.

Le service à perles et barbeaux pourrait avoir été livré pour Trianon où la Reine disposait de deux vastes salles à manger.
A la différence des services à frise riche, perles et roses livrés à Marie Antoinette et Gustave III de Suède en 1784 puis à la comtesse d'Artois en 1789, le service à perles et barbeaux de 1781 a été exclusivement réalisé pour la Reine.
SOLD FOR MORE THAN 10.000 EUROS

Send this article to a friend