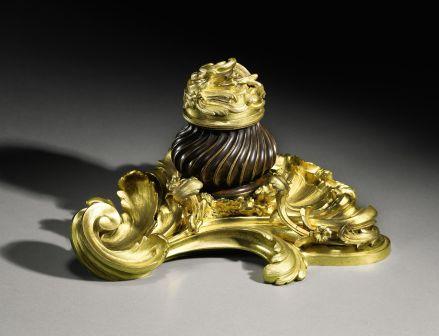 July 4, Sotheby's London will auction an exceptional ormolu and patinated bronze ink stand, made circa 1735 and attributed to the silversmith Juste-Aurele Meissonier. This work of art is estimated £200,000 to £300,000.
To better understand this estimation, let's look at the tour de force that represents this ink stand.
Our inkstand can be described thus: ormolu and patinated bronze ink stand, the ink cup in patinated bronze is circular and has large dimension spiral. It is covered with an ormolu lid richly decorated with acanthus leaves and reeds.
The base is also in ormolu adorned with large acanthus leaves, rock gardens and a waterfall pattern. It has a pen holder made ​​of two small branches and foliage in bloom.
Our ink stand is 17 cm high and 27 cm wide.
This is expensive for few cm3 of ormolu you will say, then why such an estimate?
In general, the bronzes can be cast to multiple copies from a matrix generally made of clay or plaster. This technique has been known since antiquity and can understand the concept of multiple that is frequently encountered for the bronzes from the late nineteenth century but which is found in the eighteenth century with bronzes used to garnish furniture, escutcheons and angles.
In our case, this is a unique work performed from a single copy of the technique: the lost wax casting. Our sculptor makes a wax matrix and when the bronze is poured, the wax is evacuated and the template is permanently lost. It is the use of this technique explains the aesthetic achievement that represents our inkstand. Meissonier probably carved directly into wax; it, once hardened, can be repented of and remodeling after being passed through hot water. I would particularly draw your attention to the base windings powerful curvaceous curves and cons and the waterfall a remarkable naturalism, this technique only giving bronzes of great finesse, can offer.
Therefore more than an inkstand, it is a sculpture in itself.
Stylistically, this sculpture is intended as an anthology of the rococo style best known in France as the Louis XV style. Indeed, it is a hymn to naturalism by Meissonnier, both by the use of curves and curves cons that some may describe as outrageous, as by its ornamentation of acanthus leaves and lake grounds. Here nature is a starting point and the artist emphasizes the "S" and windings, to offer us the best of Louis XV. The dating of the auction house, about 1735, seems to us entirely appropriate as we are here in full rocaille, during which time, any symmetry was banned and all the stiffness of the Regency style disappeared, giving free rein to nature.
Let us now turn to the author of this work of art.
Meissonier, this name evokes a painter of the second half of the 19th century for many of you but it is just a namesake. Juste-Aurele was born in Turin in 1695 of a blacksmith father. He arrived in Paris in 1715. He is designated as both designer and engraver, double hat that can be found good in our inkstand. He counts among his clients the Duke of Bourbon future Prince de Conde. In 1725 he received his first commission for the crown to celebrate the marriage of King Louis XV and Queen Marie Leszczynska. In 1726 he was named Designer of the House of King succeeding Jean Berain. From 1730 he is at the peak of his career and is designated as a draftsman, painter, sculptor, architect and goldsmith. He is now regarded as the greatest French rocaille decorator. His designs have inspired the creation in all Europe, especially Germany, Portugal or Italy.
Appeared on the art market fifteen years ago, our inkstand is again offered at auction. Will the £220,000 paid in 2001 be beaten on Wednesday night?



Cédric Henon, fine art specialist

Feel free to contact our fine art specialists if you want to appraise your works of art. We also assist you in the selling of your works of art : consultancy.


Credit photo: Sotheby's

Send this article to a friend