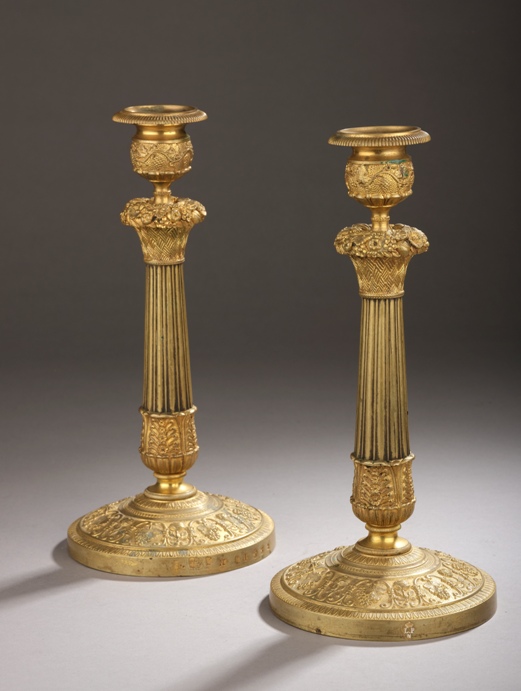 Guillaume Le Floc'h auctioneer, in Paris and Saint-Cloud, in collaboration with our experts specialized in free valuation and free appraisal will auction a French pair of Restauration ormolu candlesticks from the chateau de Neuilly, property of the Duc of Orléans, Sunday 13th October in Saint-Coud.
Paire de flambeaux en bronze ciselé, doré et anciennement patiné (usures). La base circulaire à décor de pampres, rinceaux, palmettes et feuilles d'eau supporte un fût fuselé et godronné coiffé d'un panier en vannerie chargé de fleurs, le binet à frise de pampres.

Marques d'inventaire : LP couronné N 11332 et LPN couronné pour Louis-Philippe Neuilly.

Époque Restauration.

Haut. : 26 cm - Diam. : 12 cm



Provenance :

Château de Neuilly, propriété du Duc d'Orléans, futur roi Louis-Philippe à partir de 1818.

Le château de Neuilly était une des résidences préférées de la famille d'Orléans jusqu'à la Révolution de 1848 lors de laquelle le château fut pillé puis incendié.

Send this article to a friend