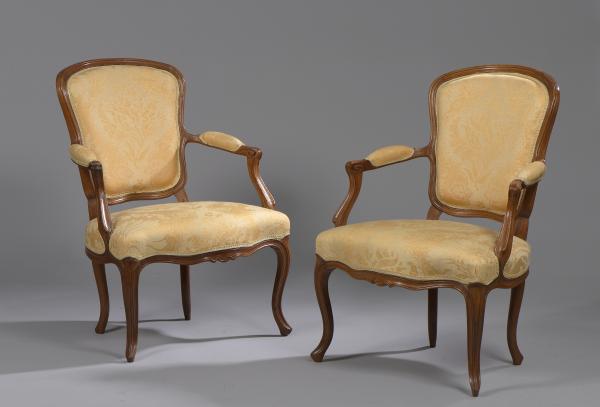 Guillaume Le Floc'h auctioneer in collaboration with our experts specialized in free valuation and free appraisal sold a French Louis XV pair of armchairs stamped Foliot, on Sunday 8th October in Saint-Cloud.
Paire de fauteuils à dossier en cabriolet en noyer mouluré, à ceinture chantournée et consoles d'accotoirs mouvementées reposant sur quatre pieds cambrés (entures et restaurations, la traverse haute d'un dossier refaite).
Estampille Nicolas-Quinibert FOLIOT, reçu Maître en 1729.
Epoque Louis XV.
Garniture de satin jaune broché de fleurs.
Haut. : 86 cm - Larg. : 63 cm - Prof. : 49 cm


Membre d'une des plus importantes familles de menuisiers parisiens du XVIIIe siècle, il exécuta et livra d'importantes commandes du Garde-Meuble royal pour les châteaux de Versailles, Trianon, Fontainebleau et Saint-Hubert.
On connaît de nombreux sièges simplement moulurés de sa main à l'instar de notre paire de fauteuils.
Estimate: 400/600 euros
Sold for 1,200 euros

Send this article to a friend