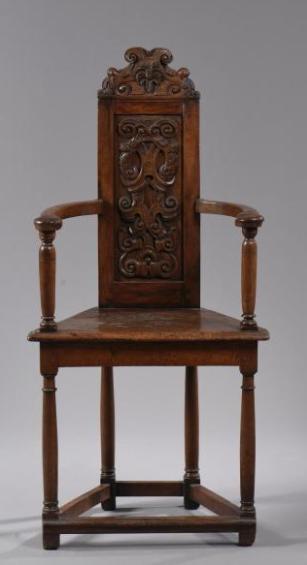 Guillaume Le Floc'h auctioneer in collaboration with our experts specialized in free valuation and free appraisal auctioned a French Renaissance walnut chair from the Jacqueline Boccador collection the 9th June in Drouot.
Chaise à bras en talmouse ou caquetoire en noyer mouluré et sculpté, le dossier rectangulaire à fronton est sculpté de cuir découpé et enroulements feuillagés. L'assise trapézoïdale repose sur quatre colonnettes baguées entretoisées (restaurations).

Seconde moitié du XVIe siècle.

Haut. : 129 cm - Larg. : 53 cm - Prof. : 43 cm



Bibliographie : BOCCADOR Jacqueline, Le Mobilier Français du Moyen Age à la Renaissance, 1996, Éditions d'art Monelle Hayot, Saint-Rémy-en-l'Eau, page 303.
Estimate: 1,200/1,500 euros
Sold for 5,000 euros

Send this article to a friend