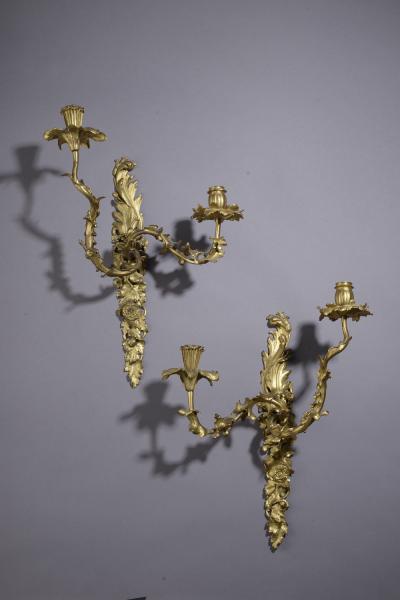 Guillaume Le Floc'h auctioneer in collaboration with our experts specialized in free valuation and free appraisal will auction a pair of French Andre-Charles Boulle ormolu wall lights, Sunday 07th February in Saint Cloud.
Paire d'appliques à deux bras de lumière en bronze ciselé et doré, les platines à décor de feuilles d'acanthe, pampres de vigne, fleurs, enroulements et graines.
Style Régence.
Haut. : 48 cm - Larg. : 36 cm - Prof. : 19 cm
Notre paire d'appliques s'inspire directement des bras de lumière dessinés par André-Charles Boulle, planche 8 des Nouveaux desseins de meubles et ouvrages de bronze et de marqueterie inventés et gravés par André-Charles Boulle chez Mariette. On y retrouve en particulier les feuilles de vigne, acanthes et graines.
Estimate: 2,000/2,500 euros

Send this article to a friend