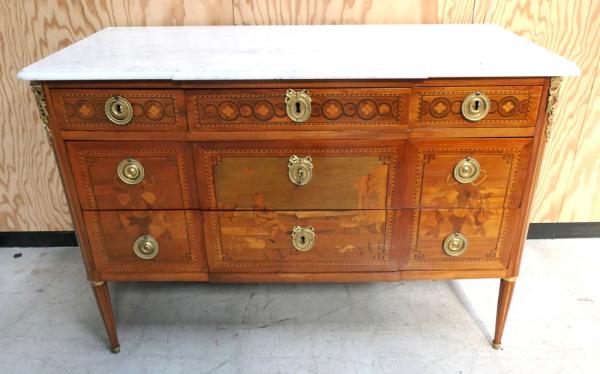 Sophie Himbaut auction house, in Aix-en-Provence, in collaboration with our experts specialized in free valuation and free appraisal will auction a French 18th century marquetry chest of drawers stamped Vassou, Friday 9h December in Aix en Provence.
Commode rectangulaire à ressaut central à décor marqueté tripartite cerné de filets de grecque et bâtons rompus, d'un paysage de ruines animées, encadré de chutes de fruits noués et d'une frise de rosaces en ceinture dans des encadrements de bois de rose, ouvrant par deux tiroirs sans traverse et trois tiroirs en ceinture, montants arrondis et pieds fuselés à cannelures simulées. Chutes, bagues, sabots, entrées de serrure et anneaux de tirage en bronze ciselé et redoré.
Estampille de Jean-Baptiste Vassou, reçu maître le 28 janvier 1767.
Epoque Louis XVI
Plateau de marbre blanc mouluré.
Accidents, fentes et restaurations
Dimensions : 90 x 127 x 58 cm.
Estimate: 2,000/3,000 euros

Send this article to a friend