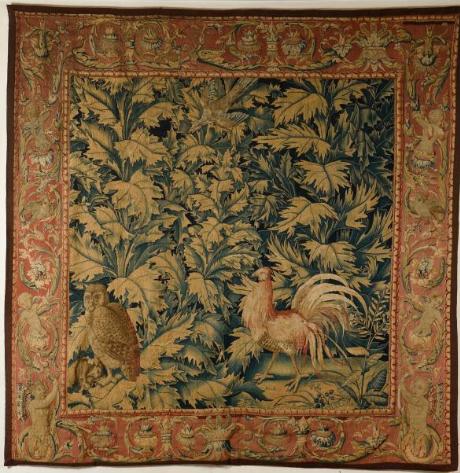 Guillaume Le Floc'h auctioneer in collaboration with our experts specialized in free valuation and free appraisal auctioned a amazing Flemish tapestry from Audenarde from the Jacqueline Boccador collection the 9th June in Drouot.
Audenarde.

Tapisserie en laine polychrome à décor de grands volatiles dont une chouette tenant un lapin dans ses griffes sur fond d'aristoloches. Riche bordure tissée de putti, satyres, oiseaux et fleurs dans des rinceaux sur fond rose (recoupée, usures et restaurations).

Flandres, XVIe siècle.

Haut. : 264 cm - Larg. : 262 cm



Provenance : Collection du banquier Émile Gaillard (1877 - 1952).



Bibliographie : BOCCADOR Jacqueline, Le Mobilier Français du Moyen Age à la Renaissance, 1996, Éditions d'art Monelle Hayot, Saint-Rémy-en-l'Eau, pp. 134 et 135.
Estimate: 10,000/15,000 euros.
Sold for 23,000 euros

Send this article to a friend