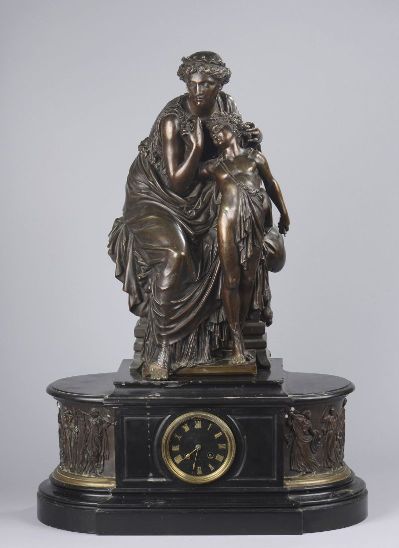 Philocale auctioneer in collaboration with our experts specialized in free valuation and free appraisal auctioned a large patinated bronze clock.
École française du XIXe siècle. Vénus et Adonis. Groupe en bronze à patine brun mordoré sommant une pendule borne en marbre noir à décor appliqué en frise de cortège de chasseresses à l'antique en bronze patiné.
Bronze : 58 cm
Total : 78 cm
Accidents et manques
A 19th century patinated bronze of Venus and Adonis
Note : notre bronze peut être rapproché stylistiquement des œuvres exécutées par Jean-Baptiste dit Auguste Clésinger, 1814-1883, de par le choix du sujet, un thème mythologique dont il se fit une spécialité, dans le traitement des visages et dans l'attitude des deux protagonistes ici représentés.
L'artiste a choisi de représenter la scène la plus connue de l'histoire d'Adonis dans laquelle Venus essaie d'empêcher ce dernier de partir à la chasse.
Estimate: 1,200/1,800 euros
Sold for 1,800 euros

Send this article to a friend