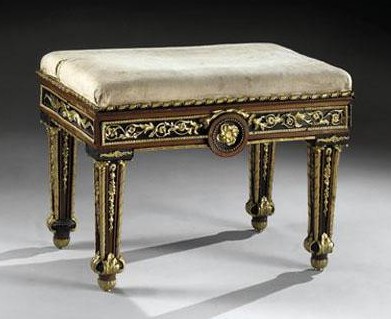 Often under estimated stool are among the seats the one that can create the biggest surprise under the hammer.
Have a look on the history of this seat.

Un petit qui deviendra grand !

Le tabouret apparaît à la fin du Moyen-âge. À l'origine, on le distingue du placet rectangulaire par sa forme circulaire, qui lui donnera son nom. En effet le terme « tabouret » provient du terme « tabur» qui désigne à cette époque un instrument circulaire : le tambour.

Ce siège a pris avec le temps des formes très diverses. Pour des raisons pratiques, il a parfois été placé dans l'angle des pièces. Ce tabouret dit
« en encoignure » comporte alors un angle droit.
Pour l'hygiène de tous les jours, certains tabourets possèdent une cuvette servant aux nécessités. On parle alors de tabourets dits
« d'aisance » ou « de commodité » .
Le meuble a parfois été perfectionné à l'extrême. Napoléon Ier possédait dans ses bibliothèques des grands tabourets garnis de cuirs pouvant se déplier pour former un escabeau.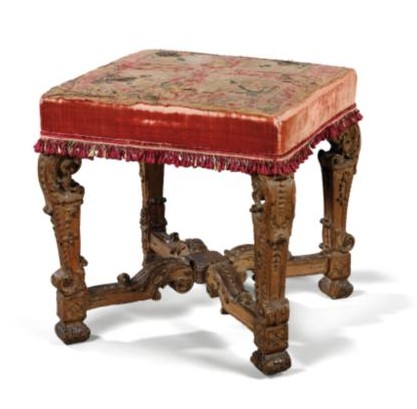 Tabouret en noyer de l'époque Louis XIV. Ancienne collection Carlhian, Paris. Courtesy of Sotheby's.

Le tabouret est dans son histoire un siège qui a été principalement utilisé par les femmes. Nicot en 1606 le définit comme un « petit siège bas embourré et couvert de tapisserie de poinct ou autre estoffe, ou les femmes s'assient tenans leur caquetoire ou faisans leurs ouvrages ».

Un siège réservé à l'élite

Le terme de tabouret peut désigner la personne qui a le droit de s'y asseoir. « Monsieur disait à la princesse de baiser les personnes qu'elle devait, c'est-à-dire princes et princesses de sang, ducs et duchesses et autres tabourets » (Extrait des mémoires du Duc de Saint-Simon (1675-1755)).

Il faut rappeler que sous l'Ancien Régime toutes les personnes de l'environnement du roi ou de la reine ne pouvaient pas s'asseoir dessus. Le tabouret est un siège réservé à une élite. Sous Louis XIV, c'est le siège que l'on donne aux princesses ou aux duchesses chez la reine.

Signe d'un haut rang social, le tabouret est un siège alors très convoité. Pour pouvoir assister au souper du roi et de la reine et avoir droit au tabouret, certaines personnes firent jouer leur relation. « D'Argenson demanda le tabouret pour sa femme et l'obtint ; c'est la première qui l'ait eu à titre de femme d'un garde des sceaux » (DUCLOS, Oeuvr. t. v, p. 330.).

450 000 € pour un tabouret Art Déco

De 5 € à 500 000 €, les prix des tabourets font le grand écart.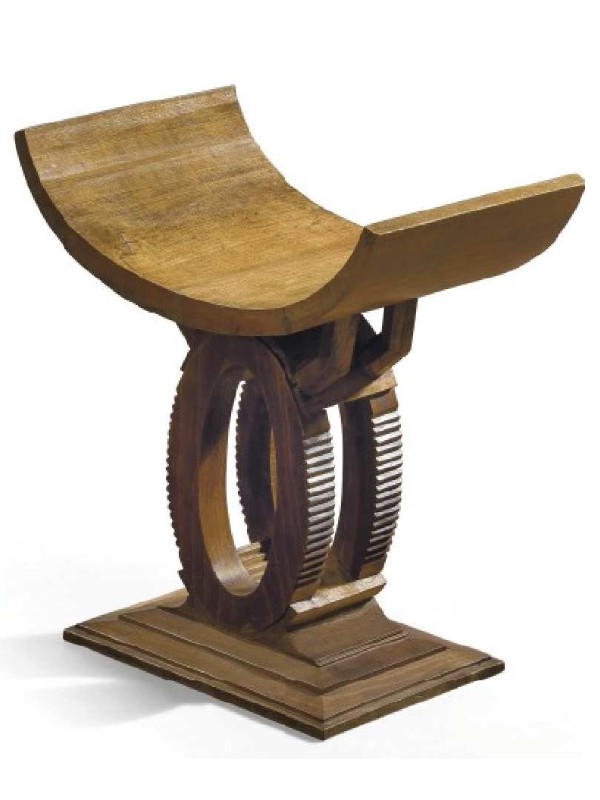 Tabouret curule africaniste de Pierre Legrain, circa 1920-1925, vendu 457 000 €. Courtesy of Christie's.

Les plus cotés de tous les tabourets sont sans conteste ceux réalisés au cours du XXe siècle. Lors de la prestigieuse vente Yves-Saint-Laurent - Pierre Bergé un tabouret de forme curule réalisé par Pierre Legrain (1888-1929) a trouvé preneur à 457 000 €. Les autres grands décorateurs Art Déco à s'être illustré dans l'art du tabouret sont : André Groult (1884-1967), Emile-Jacques Ruhlmann (1879-1933) ou Pierre Chareau (1883-1950).

Le sculpteur le plus cher au monde, Diego Giacometti (1902-1985), a crée des tabourets inspirés de l'antique en bronze patiné, très recherché par les grands collectionneurs.

De tous les sièges édités aujourd'hui, c'est dans le tabouret que nous trouvons le plus de fantaisie et d'innovation. Philippe Starck a dessiné pour Kartell des petits tabourets colorés ayant la forme de nains de jardin. Slide Design a dernièrement reçu les honneurs de la presse décoration pour son tabouret "Cubo" qui s'éclaire de l'intérieur.

.


Laurent Hache, Furniture Specialist.



Feel free to contact our fine art specialists if you want to appraise your works of art. We also assist you in the selling of your works of art : consultancy.





Send this article to a friend