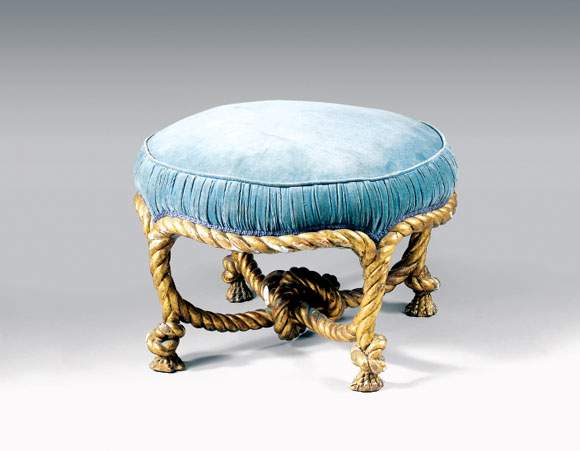 Following the French styles Restauration and Louis-Philippe, the Napoleon III style started in France around 1845 to end with the First World Ar. For long French collectors didn't have any interest in it. It is only now that Second Empire furniture and works of art attract interest from private and dealers.
What are the main characteristics of this style?
Les influences
Contrairement aux styles précédents qui se succèdent depuis le Moyen-âge en ayant des caractéristiques qui permettent de les identifier au premier coup d'œil, le style Second Empire se distingue par une absence de style à proprement parler.
Ainsi, les artisans revisitent les styles passés et les réinterprètent que ce soit les meubles gothiques, renaissance, Henri II, Louis XIII ou XVIIIe et Empire.
On soulignera que le style Louis XVI fut particulièrement mis à l'honneur pour l'impératrice Eugénie qui vouait une véritable adoration à la reine Marie-Antoinette. Pour ce qui est de l'Empire, Napoléon III tente de se rattacher au souvenir de son aïeul et les « N » et abeilles sont nombreux.
Dans la suite de la période Louis-Philippe, le Second Empire est marqué par la montée de la bourgeoisie qui recherche un nouveau confort se qui donnera naissance aux sièges garnis à capiton ou boutonnés.
Les techniques
La période Napoléon III est marquée par une forte mécanisation des techniques ainsi :
-le sciage passe de manuel à mécanique dans de nombreux ateliers.
-les placages sont plus fins.
-des meubles en bambou mais également en palissandre massif.
De même, les montages changent et le collage remplace souvent le chevillage.
En matière de bois doré, la sculpture se fait non plus dans le bois mais dans le gesso ou plâtre.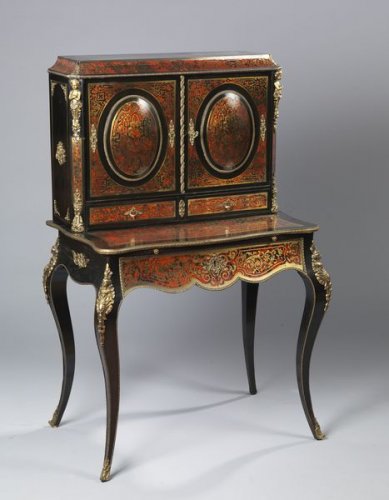 Bonheur du jour en bois noiri et marqueterie boulle, style Louis XV, époque Napoléon III, vente Philocale le 01 mai 2020, lot 201.
De nouveaux types de décors voient le jour :
-le papier-maché.
-le décor de burgau.
-les incrustations de nacre.
-le faux cordage.
-le japonisme.
Les nouveaux meubles
Le style Napoléon III voit la création de nombreux meubles et sièges en particulier :
-les tables gigognes.
-la borne
-le pouf
-le confident qui a la forme d'un « S » à deux places
-les indiscrets à trois places
-de nombreux modèles de tables à jeux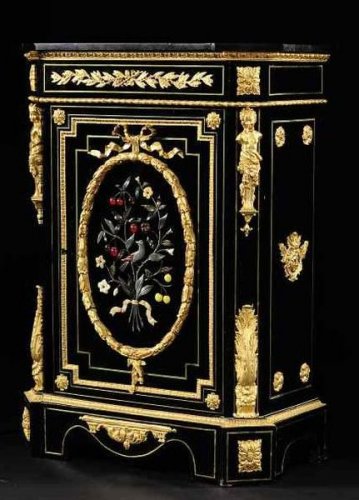 Meuble d'entre deux portant une plaque de pierre dure et une riche garniture de bronzes ciselés et dorés, époque Napoléon III, vente Kohn le 4 aout 2010, lot 260.
On soulignera également l'apparition de la mode des copies des meubles conservés dans les musées et dans le Garde Meuble Imperial anciennement royal. Ces copies, des plus beaux meubles des périodes Louis XIV, Louis XV et Louis XVI, se distinguent par leur perfection.
Elles furent réalisées par de nombreux ébénistes parmi lesquels on peut citer, Linke, Durand ou Sormani.
Parfois jugé comme excessif dans ses lignes, trop riches en bronze ou en décor, le style Napoléon III se distingue cependant par son immense inventivité et depuis quelques années séduit de plus en plus les décorateurs, en particulier Jacques Grange, et amateurs qui recherchent dans ce style sa capacité à créer un décor et une ambiance unique.
Beaucoup de meubles Second Empire sont encore abordables, c'est le moment d'en profiter.
Cédric Henon
Fine Continental Furniture Specialist.
Illustration principale : Pouf en bois sculpté et doré à l'imitation du cordage, époque Napoléon III, vente Beaussant-Lefevre, le 5 décembre 2007, lot 299.

Send this article to a friend