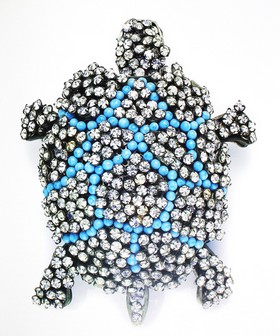 Some jewels are made of non-precious metal. Are they therefore not precious jewels? To answer this question the creator of unique jewelry, Salome Osorio, wants to remind us how this gem has established itself over the centuries against his older brother, the high jewelry.

Le bijou d'imitation fait sa révolution

« Il me semble que c'est avec le bijou d'imitation du 18e siècle que le non-précieux s'installe pour de bon. La pâte de verre était utilisée depuis le moyen âge pour sa capacité à imiter les pierres précieuses, le doublé de pierre et le verre teinté depuis au moins le 17e siècle.
Il faut attendre le siècle des Lumières pour que ce bijou d'imitation fasse sa révolution. Le rôle du joaillier du roi de France, George Frédéric Strass fut capital. Il inventa un cristal, désigné par son nom depuis 1746, cristal capable d'imiter les brillants, émeraudes, rubis ou saphirs. Le bijou d'imitation devient à la mode. Le faux peut être perçu indépendamment du vrai.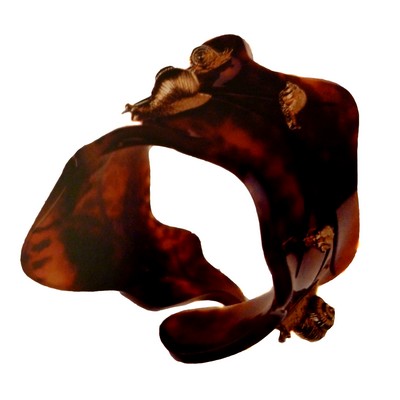 Bracelet Feuille de chêne et escargot, galalithe et métal doré, Isabel Canovas, 1988.
C'est à cette époque que se multiplient les techniques d'imitation de l'or ou de l'argent. Le doublé, le plaqué, le doré permettaient déjà d'utiliser une infime quantité d'or. Le pomonne, pinchbeck, ou similor, permettent dorénavant d'imiter l'or tandis que le ruolz, le tiers-argent et le maillechort imitent l'argent. Ainsi, les métaux précieux ne sont définitivement plus incontournables pour fabriquer de petits ouvrages.
Avec la Révolution, les nobles ne sont plus les seuls au contrôle de la richesse, bien souvent d'ailleurs ils ont perdu leur fortune. Maintenant, les bourgeois ont autant de poids social que les aristocrates. Ils vont, la plupart du temps, s'approprier les codes de la grande noblesse, du moins vont essayer, car il y aura toujours un décalage. L'émergence de cette bourgeoisie provoque au 19e siècle la demande grandissante pour un bijou moins précieux ou non-précieux. »

La Fantaisie s'impose au 20e siècle

« Le bijou dit de « fantaisie » fut baptisé ainsi lors de l'Exposition Universelle de 1900 et c'est au cours du 20e siècle qu'il s'est définitivement émancipé de celui en joaillerie.
Les maisons de couture ont favorisé son émergence en créant des accessoires pour accompagner les vêtements de leurs différentes collections. Elles ont développé des gammes de bijoux fantaisie. Pour les réaliser les Maison Chanel, Dior, Schiaparelli, Saint Laurent ont collaboré avec des artisans créateurs que l'on redécouvre aujourd'hui comme Robert Goossens, Jean Clément, ou Roger Scemama.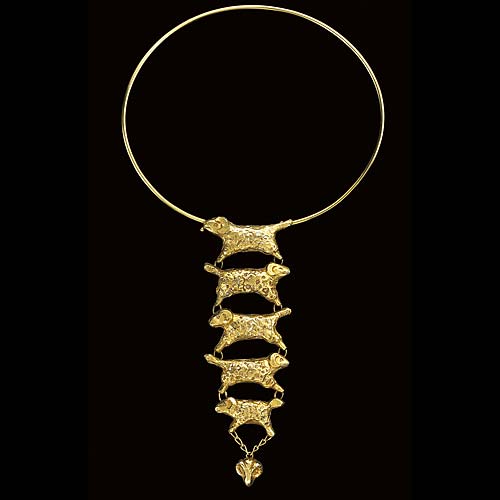 Collier « Saute Mouton », bronze doré, Line Vautrin vers 1950-55, musée des Arts Décoratifs de Paris.

C'est avec les créateurs « indépendants » que le bijou fantaisie a réellement pris son envol. Line Vautrin, Isabel Canovas, Marc Morbelli, Catherine Noll, Hanna Bernhard sont des créateurs libres de toute contrainte. Ils ont développé un langage personnel et moderne. Leurs bijoux n'ont plus rien à voir avec ceux faits de pierres précieuses.
De grands artistes se sont également prêtés au jeu du bijou non précieux. Alexander Calder, Gérard Sandoz, Les Lalanne ou Jean Cocteau ont ainsi réussi à donner au bijou fantaisie le statut d'œuvre d'art.

Au cours du 20e siècle, le bijou est devenu plus qu'un simple accessoire de mode. Il est devenu pour la femme un accessoire de sa propre féminité, et surtout de sa propre personnalité. La cliente de bijoux fantaisie cherche un bijou qui lui est propre et qui la distingue des autres femmes. Il n'est donc pas étonnant que le marché du bijou fantaisie soit aujourd'hui si dynamique et si réactif.»

Salomé Osorio
Pour en savoir plus sur l'auteur : Cliquez ici.

Laurent Hache and Cedric Henon expertise your bronze, furniture, ceramics, seat or sculpture, for sale, auction, insurance or inventory. You can contact us by phone +44 796 722 3146 or +33 1 40 26 05 46.




Send this article to a friend